Global Locations
Global Businesses
Glico entered the global marketplace in 1932. Today, 16 Glico group companies operate business in 12 countries.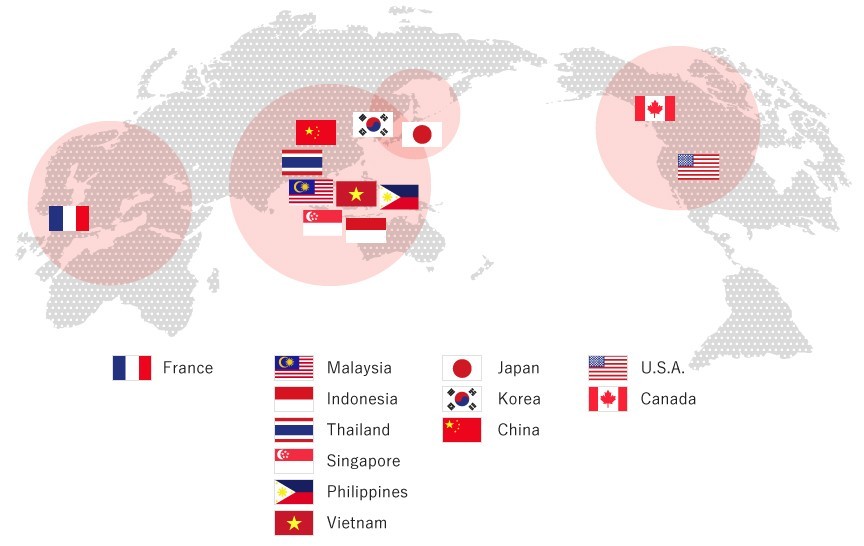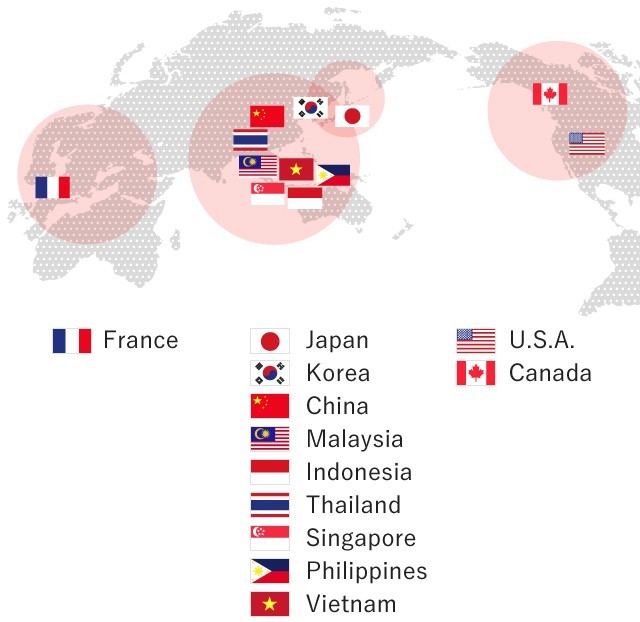 Japan
Ezaki Glico Co., Ltd. ,the headquarters of Glico Group, is located in Japan. Since 1922, Ezaki Glico Co., Ltd. started in the confectionery business and has been producing original products. In addition to the confectionery business, we are currently involved in the ice cream, dairy, fruit juice / soft drink, Western confectionery, baby formula, processed food, health-related, store, office, e-commerce, and food ingredient businesses.
ASEAN
Sales companies have also been established in Indonesia, Malaysia and the Philippines with the goal of further expanding the confectionery market in those countries. In Vietnam, Glico is actively involved in the marketing and sales of confectionery, ice cream, beverages and milk poeder.
China
Shanghai Ezaki Glico Foods Co., Ltd. produces and sells confectionery such as Pretz and Pocky. It strives to expand sales by focusing attention on e-commerce in view of the expanding e-commerce market in China.
Korea
Glico Haitai Co., Ltd. is a joint venture with Haitai Confectionery in Korea to sell Pocky.
North America
Ezaki Glico USA Corporation deals with the sales of Pocky and PRETZ. Glico Canada Corporation also handles other food products such as Glico Curry.In 2018 we acquired TCHO Ventures, Inc. is also actively involved with sales and manufacturing of chocolate confectionery.
EU
Generale Biscuit Glico France S.A. a joint company with General Biscuit, sells MIKADO ‒ the EU-version of Pocky.
Global Locations
Headquarters
Ezaki Glico Co., Ltd.

Established:

February 1922

Business Summary:

Production and sales of confectionery and other food products

Location:

4-6-5 Utajima, Nishi-Yodogawa-ku, Osaka, Japan

Contact:
Overseas Glico Group Companies
Shanghai Ezaki Glico Foods Co., Ltd.

Established:

September 1995

Business Summary:

Production and sales of confectionery and associated products

Location:

268, Room1001, Middle Xizhang Rd. Huangpu District, Shanghai China

Shanghai Ezaki Glico Nanfeng Foods Co., Ltd.

Established:

November 2006

Business Summary:

Confectionery production

Location:

NO.777,Qinggao rd.,Qingcun Town,Fengxian,Shanghai 201414 China

Glico Asia Pacific Pte. Ltd.

Established:

June 2017

Business Summary:

Glico business activities within ASEAN nations

Location:

138 Market Street, CapitaGreen #35-04, Singapore 048946

Thai Glico Co., Ltd.

Established:

April 1970

Business Summary:

Production and sales of confectionery and associated products

Location:

Ploenchit Tower, 4th Floor, 898 Ploenchit Road, Pathumwan, Bangkok 10330 Thailand

Glico Frozen (Thailand) Co., Ltd.

Established:

June 2015

Business Summary:

Ice cream marketing and sales

Location:

Ploenchit Tower, 4th Floor, 898 Ploenchit Road, Pathumwan, Bangkok 10330 Thailand

PT Glico Indonesia

Established:

April 2014

Business Summary:

Sales of confectionery etc.

Location:

Perkantoran Permata Senayan Block C3, Lt. 5 Jalan. Tentara Pelajar, Jakarta, 12210 Indonesia

Contact:

Glico Malaysia Sdn. Bhd.

Established:

March 2017

Business Summary:

Sales of confectionery etc.

Location:

Lot 7-03 & 7-3A,Tower A, Vertical Business Suites, Jalan Kerinchi, Bangsar South, Kerinchi 59200 Kuala Lumpur Malaysia

Ezaki Glico Vietnam Co., Ltd.

Established:

May 2019

Business Summary:

Confectionery, Ice cream,beverages and powdered milk marketing and sales

Location:

Floor 7, Central Park Building, 117-119-121 Nguyen Du, Ben Thanh Ward, District 1, Ho Chi Minh City.

Glico Philippines, Inc.

Established:

Jan. 2019

Business Summary:

Sales of confectionery

Location:

Unit 1201, LIBERTY CENTER BUILDING, 104 H.V. DELA COSTA STREET, SALCEDO VILLAGE,MAKATI CITY, PHILIPPINES 1227

Glico North America Holdings, Inc.

Established:

January 2019

Business Summary:

Holding company

Location:

18022 Cowan, Suite110, Irvine, CA92614

Ezaki Glico USA Corporation

Established:

February 2003

Business Summary:

Sales of confectionery etc.

Location:

18022 Cowan Suite 110 Irvine, CA 92614

Contact:

Glico Canada Corporation

Established:

May 1987

Business Summary:

Sales of confectionery, food, and associated products

Location:

162 West 5th Avenue. Vancouver, B.C. V5Y 1H7 CANADA

Contact:

info@glicocanada.com

TCHO Ventures, Inc.

Established: February 2018

Business Summary: Manufacture and sale of chocolate confectionery

Capitalization: 10 thousand USD (100% Ezaki Glico investment)

Location: 3100 San Pablo Avenue, Suite 170, Berkeley, California, USA

Glico-Haitai Co., Ltd.

Established:

September 2011

Business Summary:

Production and sales of confectionery and associated products

Location:

3, Hangang-daero 72-gil, Yongsan-gu, Seoul 04352, Korea

Generale Biscuit Glico France S.A.

Established:

March 1982

Business Summary:

Sales of confectionery and associated products

Location:

C/O Mondelez International France 6, avenue Reaumur BP 100 92146 Clamart Cedex

PT. Glico-Wings

Established:

September 2013

Business Summary:

Ice cream production and sales

Location:

Wisma Gawi LT.3 Unit 306-307, Taman Perkantoran Kuningan JL Setiabudi Selatan Kav 16-17, Jakarta Selatan 12920, Indonesia