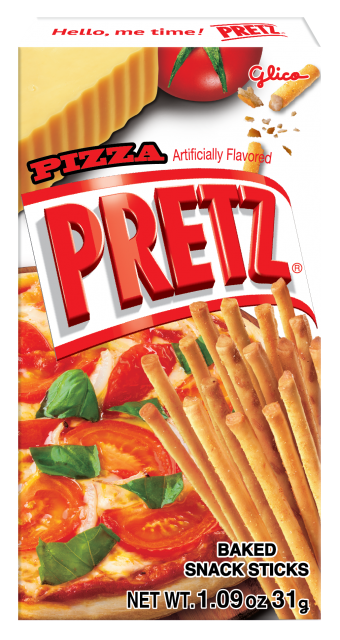 Pretz Pizza
Taste the cheese and the tomato flavored pretzel sticks with Pretz Pizza.
Ingredients

Wheat Flour, Blend of Vegetable Oils(Palm Kernel Oil, Canola Oil, Coconut Oil, Palm Oil), Vegetable Oil Shortening(Palm Oil, Hydrogenated Palm Oil), Corn Starch, Sugar, Tomato Paste, Cheese Powder, Salt, Yeast, Onion Powder, Monosodium Glutamate, Artificial Flavors, Spices, Yeast Extract, Tomato Powder, Disodium 5'-Inosinate, Disodium 5'-Guanylate, Malic acid, Citric acid, Tocopherols

Allergen

Contains Wheat, Milk, Soybean and Coconut.
May Contain Peanut, Anchovy, Ikan Tamban, Sardine, Shrimp and Crab.