Glico as a nuts pioneer and how Almond Kouka was developed.
Glico's experience with almonds began in 1930 when the firm's founder, Mr. Riichi Ezaki, traveled to the USA. While there, he came across a shop selling a variety of nuts and encountered almonds for the first time. Since then, almonds have found their way into various Glico products.
Being a rich source of vitamin E, almonds have gained ever more attention during the last few years. Building on that, the mission of the team behind Almond Kouka is to contribute to health by adapting almond byproducts to current lifestyles. However, it was no easy start. We had to learn how to process hard nuts into smooth almond milk from scratch.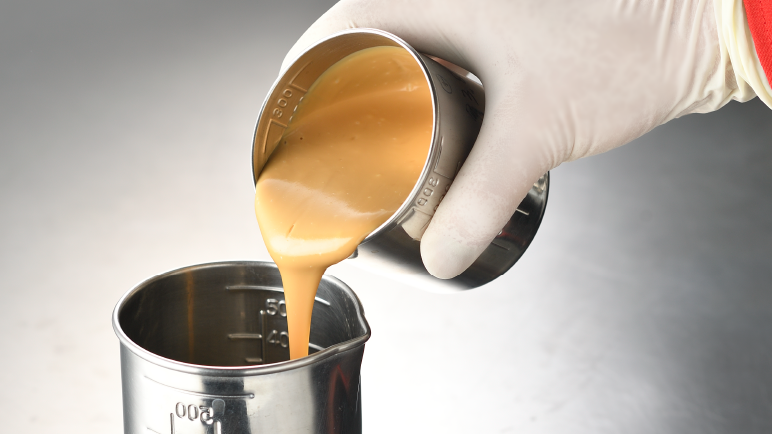 Taking advantage of confectionery expertise.
With no previous experience, a manufacturing process similar to that for soymilk was attempted. Almonds were crushed, boiled, and squeezed. However, the resulting taste was watery - nothing close to being considered almond milk. Also, the nutrition remains as pomace after being squeezed so it did not fit with the concept of the product either. The next idea was to grind the almonds to extract their full nutrition and flavor. Unfortunately, the resulting fibers were so hard that what resulted was anything but smooth.
Following that, it was decided to apply the technology used in the manufacturing process for chocolate - a high pressure emulsifying method of adding honey and almond oil to the ground almond paste. By adjusting roasting time and temperature along with the amount of honey, we gradually achieved a memorable flavor with just the right amount of sweetness to entice daily consumption. Our goal of creating a smooth drinking, flavorful almond milk was fulfilled. It was not only due to our expertise in manufacturing chocolate and milk, but also the combination of Glico's R&D and technological skills helped us to create a completely new product.