Glico Museum Web-VR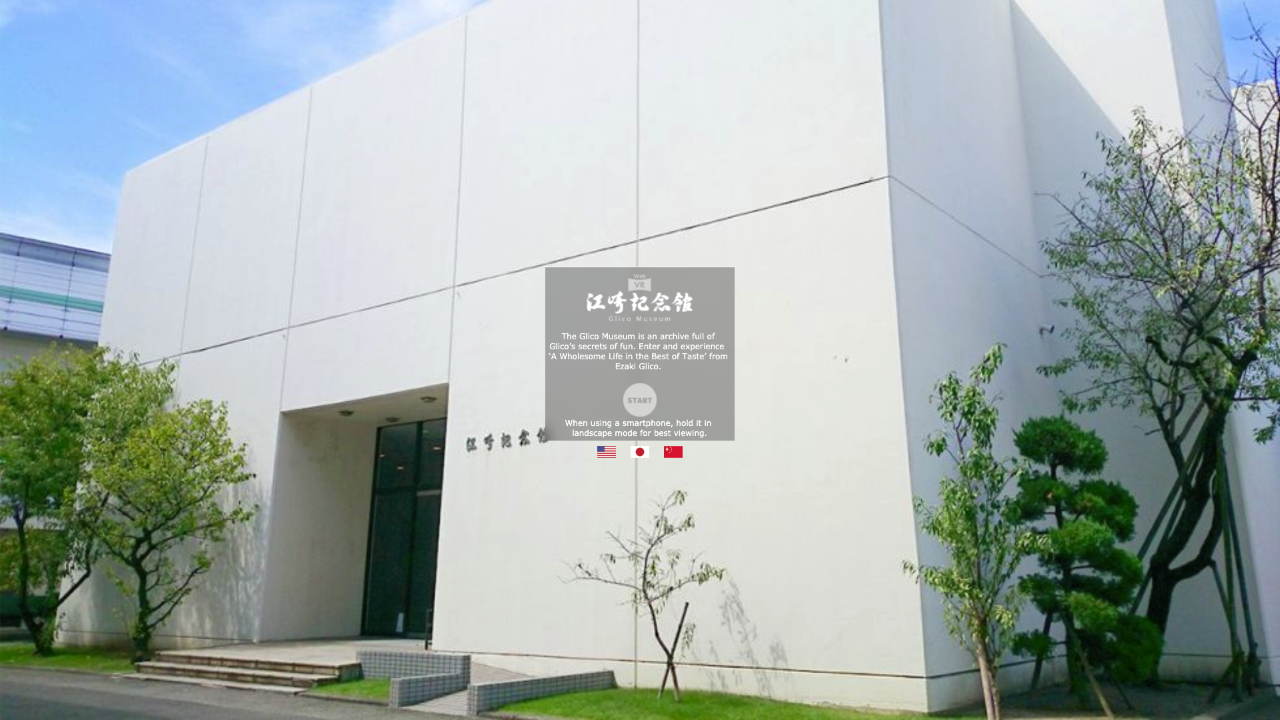 About Glico Museum Web VR
Established to commemorate the 50th anniversary of Ezaki Glico's founding, the Glico Museum is an archive full of Glico's secrets. It introduces everything about Ezaki Glico, which has pursued "A Wholesome Life in the Best of Taste." We have replicated this museum using virtual reality (VR) technology.
You can take a tour of the museum using a smartphone or computer. Please enjoy the experience of Glico Museum Web VR.
【Notes】
・Some exhibits may differ from those on actual display at the Glico Museum. There are also some exhibits that cannot be viewed, such as advertisements which feature personalities. We kindly ask for your understanding.
・Products on display at the Glico Museum include those which are no longer being sold. In addition, the product designs are those in use during the time of photography and may differ from the products currently being sold.
・Please refrain from use if you are not feeling well or prone to motion sickness.
・Please discontinue the VR tour if you experience symptoms of discomfort during viewing, such as nausea, dizziness, or motion sickness-like symptoms.
・For your health, please take regular breaks when viewing the VR tour. Please also take adequate rest after finishing or discontinuing the tour.
・Duplication or use of this video without permission is strictly prohibited.
・Under no circumstances shall Ezaki Glico be responsible for any damage, problems, or other liabilities that arise from the use of this VR tour.
・The information found in this VR tour may change or be deleted without prior notification. In addition, there may be times when the tour cannot be viewed temporarily due to website maintenance.
・While the Glico Museum Web VR tour is free, the viewer will have to bear the connection and communication costs that arise from viewing the tour.
【System Requirements】
・Glico Museum Web VR can be enjoyed using the following browsers: Chrome, Opera, Firefox, and Microsoft Edge. The latest versions of these browsers are required.
※ Viewing may not be possible on the latest version of Internet Explorer. In such cases, please use Chrome.