History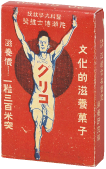 Glico
The nutritious candy - Glico Caramel is created and test-marketed. The heart-shaped caramel product, "Glico", features the distinctive red package of the Glico logo and a marathon runner with arms raised in the air resembling victory.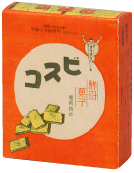 Bisco
A sandwich-type healthy biscuit treat made with yeast, becomes the second nutritious confectionery that Glico creates.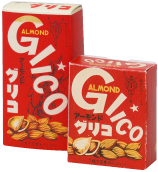 Almond Glico
Created upon an encounter with almonds in the US, sales of Almond Glico commence with the catch phrase "Double the Flavor in Each Piece". The taste of these caramels containing almonds is a popular hit among adults.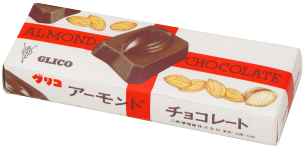 Almond Chocolate
Until the introduction of this product that contained one almond in each piece of chocolate, chocolate products generally contained only chocolate. In 1962, Almond Chocolate wins an award in the Monde Selection Nuts category in Belgium, the first for a Japanese product.

One Touch Curry
This Glico product was named because of the little time that is needed to cook it.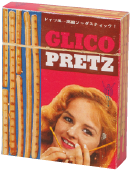 Soda-flavored PRETZ
Soda-flavored PRETZ, a product based on a traditional German snack, commence in Hiroshima as part of a trial. The following year, butter-flavored PRETZ are introduced and gain popularity among children in no time.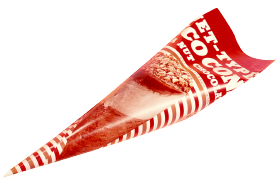 Glico Cone
This ice cream cone product featuring a distinctive chocolate and crushed almonds differs significantly from the ordinary cup and bar type ice cream products previously available. In 1996, the brand name changes to Giant Cone.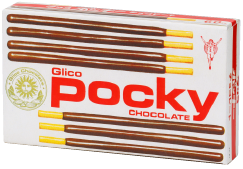 Pocky
The world's first chocolate coated biscuit sticks commence. A simple but innovative idea led to one end of the stick remaining uncovered so that no chocolate gets on the fingers.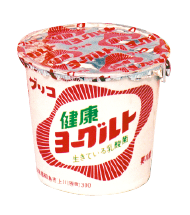 Yogurt Kenkou (Yogurt for Health)
At a time when yogurt was not yet well known, this product was developed with the positive goal of nurturing health with nutritious milk and lactic acid bacteria.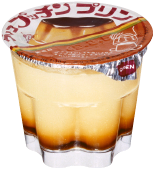 Pucchin Pudding
A creamy taste along with the distinctive sound that occurs when popped out of its container contributes to this product's popularity.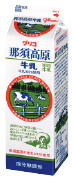 Kogen Milk in 1000 ml containers
This special milk is available to customers from the closest of five designated highland producing areas.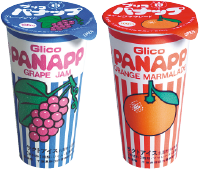 Panapp
A parfait-based product of ice cream as eat with long spoon and put the fruit sauce vertically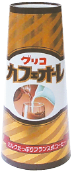 Café au Lait
Sales commence for Café Jelly as well as for Café au Lait that is based on the French beverage, which is a generous amount of rich milk added to coffee.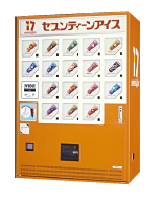 Seventeen Ice
Seventeen Ice vending machines are introduced particularly for young people at trendy locations, such as bowling alleys where ice cream was not previously available.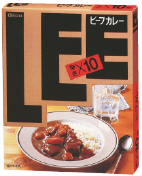 Beef Curry LEE
A heat and serve product in a retort pouch that is renowned for its spiciness.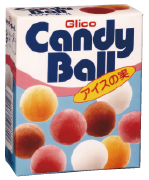 Aisu no Mi
Bite size fruit flavored cubes of sherbet ice.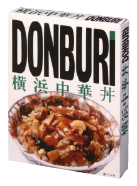 Donburi-Tei
A heat and serve product in a retort pouch that is simmered and served over rice.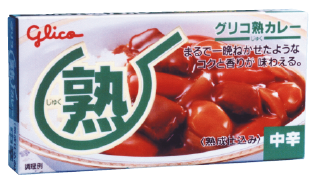 Juku Curry
Based on the thought that curry tastes best the next day, this product recipe was developed using techniques acquired during the production of other products.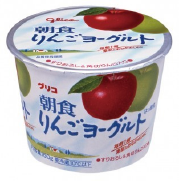 Choushoku Ringo (Breakfast Apple) Yogurt
A remarkable product containing no artificial sweeteners was developed to attract consumers who tend to skip their morning meal.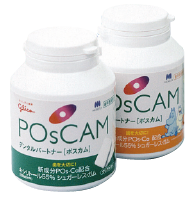 POs-Ca ®
The development of the first stages leading to POs-Ca ®, a product that acts to prevent cavities and tooth decay while contributing to dental remineralization, is announced.

Calorie Control Ice
Sales of Calorie Control Ice commence fulfilling the requests of consumers wanting a good tasting ice cream type product while striving to reduce sugar and calorie intake.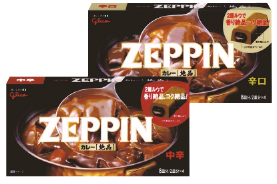 ZEPPIN Curry
Curry roux is developed with using the manufacturing technology of confectionaries. The curry roux is included about 40 type's spices and confine the rich taste and flavors.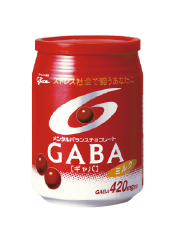 GABA
The "mental balance chocolate" that acts to reduce excitability in certain parts of the brain. The name is derived from the Gamma-Amino Butyric Acid found in a cacao base.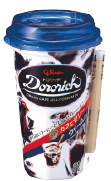 Dororich
A product based on the concept of making a drinkable dessert.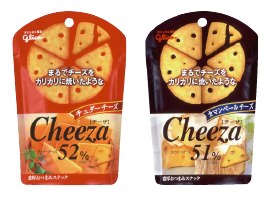 Cheeza
A product with an authentic rich cheese taste was developed primarily for adult consumption as a snack complementing alcoholic beverages.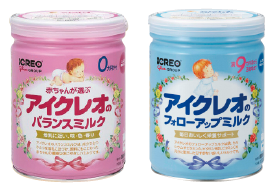 ICREO Balance Milk ICREO Milk Formula
The primary ingredients of the ICREO powdered milk products are carefully prepared to be similar to breast milk in both taste and smell.