The ultimate goal for Glico's R&D is contributing to the realization of scientifically supported "A Wholesome Life in the Best of Taste". Based on basic research focusing on Glycotechnology and Enzyme Engineering, the next stop is to apply the results in order to yield business applications that scientifically contribute to taste, health, and functional materials.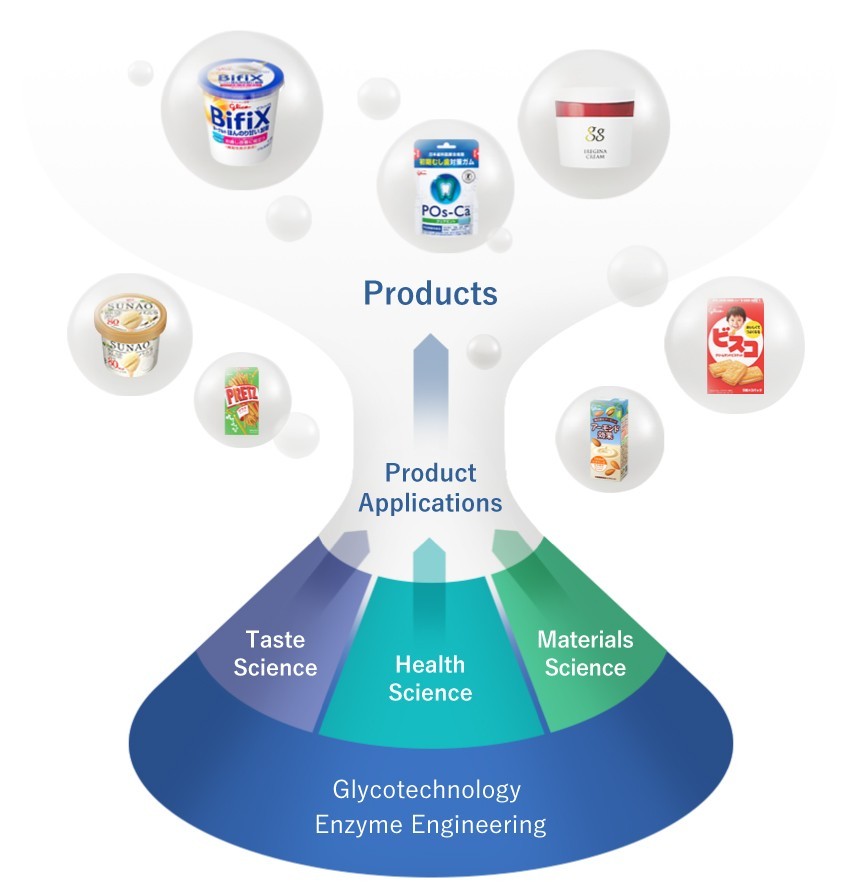 For detailed information regarding basic research contributing to the practical development of products and functional materials, please refer to "Research・Themes" on the Glico Institute of Health Sciences website.
Glycotechnology・Enzyme Engineering
Basic studies related to the functions of carbohydrates such as glycogen and starch, saccharides that are the source of sweet taste, and various related enzymes are Glico's core competence and have long had positive global impact in various forms. A wide-range of basic studies continues to be conducted based on these functions in order to contribution to future business.
■

Taste Science

Glico laboratories analyze, visualize, and control deliciousness based on scientific evidence. Further, we delve into techniques to enhance product satisfaction as a result of deepening the understanding of human preferences.
【Examples】Taste, Aroma, Texture, Psychological Effects, etc.
■

Health Science

Based on a foundation of biochemistry, microbiology, and nutritional science Glico has been undertaking research in oral/gastrointestinal health, the relationship between in vivo stress-such as hyperglycemia or oxidation-and health. Glico also constantly seeks the formulation of remedies that contribute to providing solutions for health-related problems, and then applies the results to the development of appropriate products.
【Examples】Improvement of the oral and intestinal environments etc.
■

Materials Science

Glico constantly strives to effectively commercialize the findings of its research. Along the way, there is not only an emphasis on the development of new products and new functional materials, but also on exploring methods capable of producing solutions effecting targeted issues that will in turn possibly lead to new functions.
【Examples】Functional Carbohydrates, Carotenoids, Polyphenols etc.