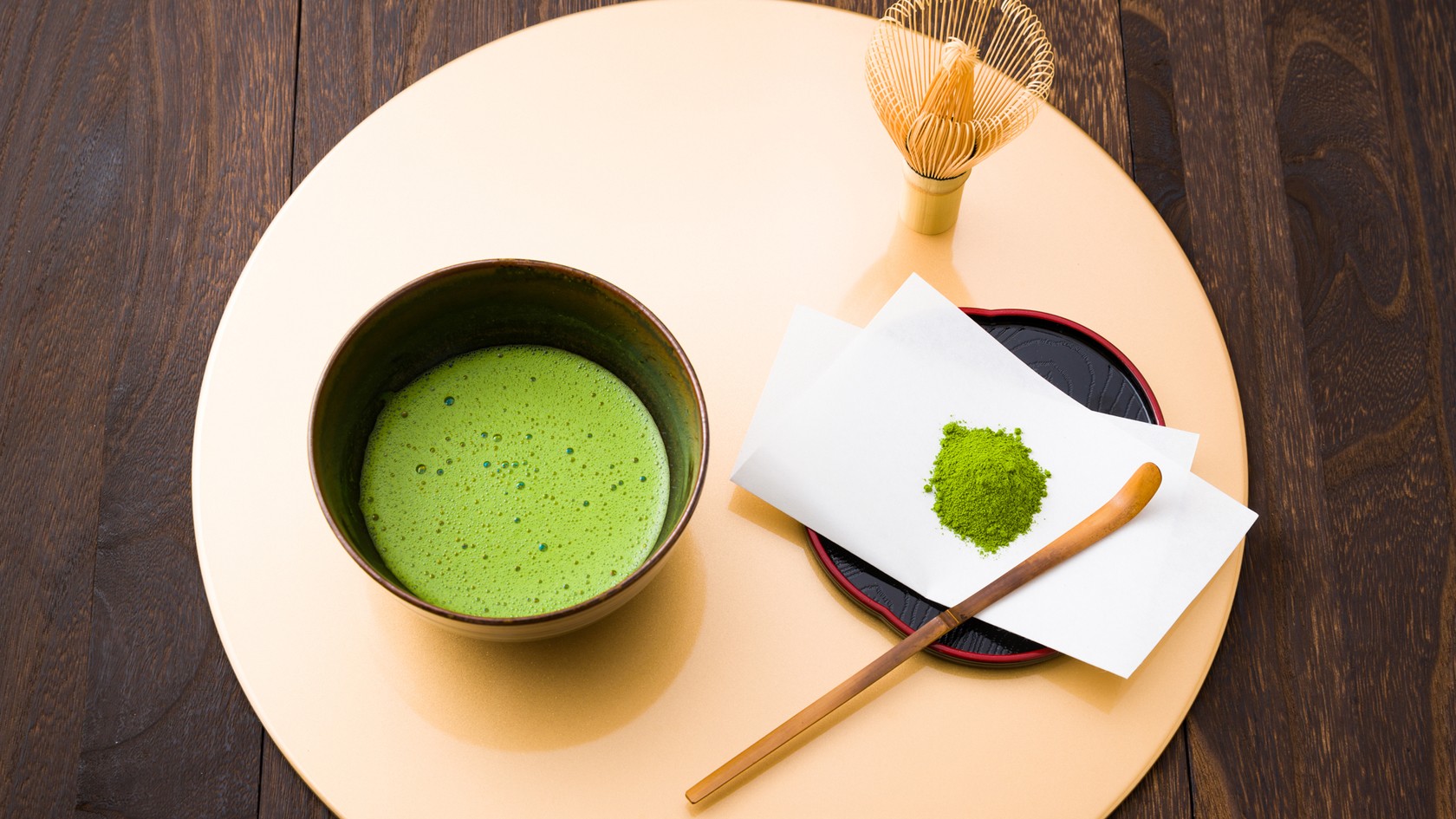 The Truth Behind Japanese Matcha
Matcha, or green tea, is one of the unique flavors of Japan. Over the past few years, matcha has been experiencing a boom, and has become popular overseas as well. You can now find green tea lattes at a certain global coffee chain, and matcha flavored sweets and ice cream are available in stores around the world. On top of this, in the US a "MatchaBar" has recently opened, making matcha a taste you can enjoy not just in Japan, but all around the world.


Matcha is also apparently very popular with foreign visitors to Japan as souvenirs of their trip. With their sweetness and rich taste, matcha flavored sweets really are delicious. But are there differences between the way Japanese people and foreign people think about the flavor of matcha? Originally, matcha was the tea used in the traditional Japanese tea ceremony, known as "sado." So with that in mind, we asked a foreign person who has never tasted real matcha before to try their hand at the tea ceremony! Was there any difference between their image of matcha and the actual taste? Read on to find out more.

"I love sweet matcha!"

We were joined by Retikan Gokkuran, a Vietnamese postgraduate student who is now in her second year in Japan.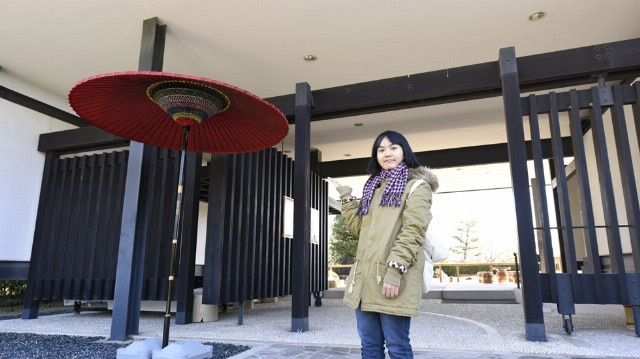 "Matcha flavored sweets are even popular in Vietnam. I'm a big fan as well and often eat them, but I have never drunk matcha itself. Is it sweet like fruit juice? I can't wait to try it!" said Retikan as she made her way excitedly to the tearoom. The tearoom we visited was the Senri-an tearoom, located in the Expo Commemoration Park in Osaka. Operating since the opening of the Osaka Expo in 1970, this tearoom has a long history.
With a traditional Japanese garden beside it, Senri-an has a very Japanese atmosphere to it. Upon entering the tearoom, we were warmly greeted by the staff dressed in kimono. "Recently, we are seeing a lot more foreign visitors coming to the teahouse to try matcha. There are especially lots of visitors from China," commented the staff at the tearoom. While we were holding this interview, another two groups of foreign guests came to try the matcha.
Into the ozashiki! A rather tense atmosphere… As we were guided to the tatami-matted room, known as the ozashiki, an expression of nervousness appeared on Gokkuran's face. In the ozashiki, we were shown the manners and etiquette of the tea ceremony room, such as moving without standing on the edge of the tatami mats, the place to sit, and the way to greet. "Sado developed as a comprehensive art form covering a wide range of fields. It is not just about enjoying tea, but it is about one's goals for life and way of thinking, religion as well as art with the utensils and art pieces displayed in the tearoom." After taking a seat, we watched the staff as they demonstrated how to pour the tea.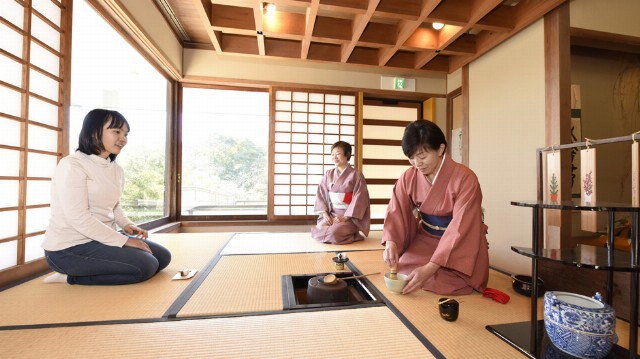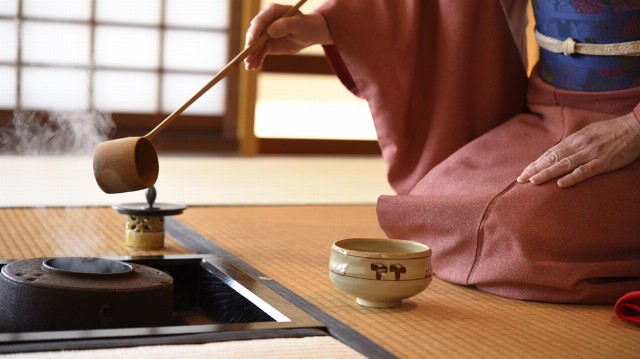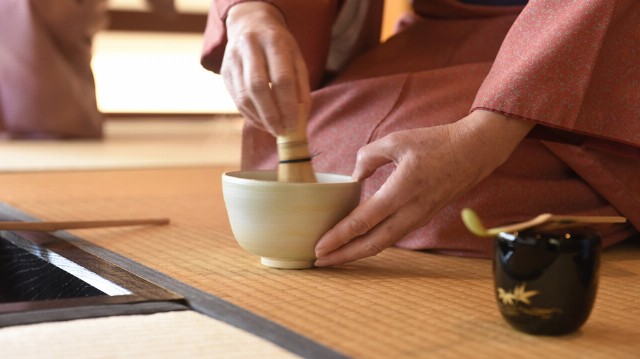 "In Vietnam, there are lots of teahouses and they have people who specialize in making the tea, so I thought I would be used to the sight of seeing someone making tea, but the way it is done in Japan and the atmosphere is entirely different, isn't it! In Vietnam, we use a teapot and teacups," said Gokkuran. Here, the ochagashi, the sweets to be eaten before drinking the tea, were brought out to us. Apparently, Gokkuran doesn't usually eat Japanese sweets.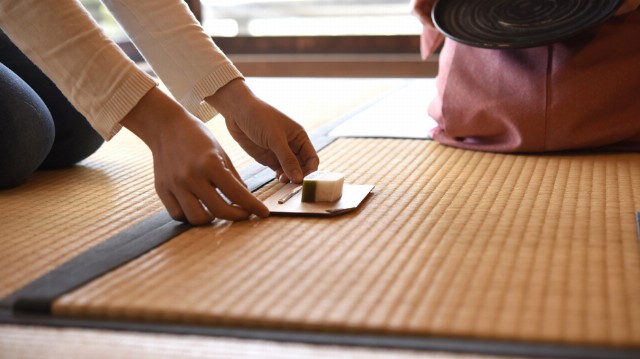 The sweets were carefully placed in an easy to eat position.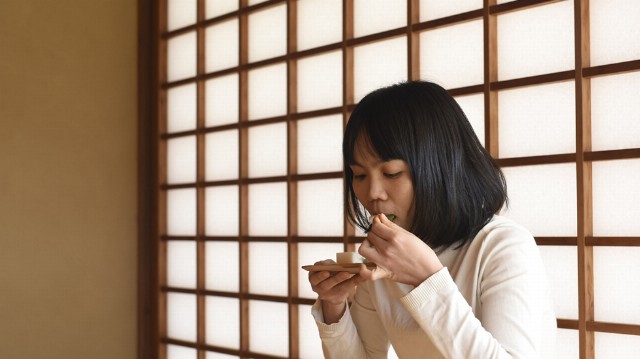 Gokkuran trying the sweet. "Delicious!" The nervous expression disappears from Gokkuran's face. "It's very sweet! Compared to Vietnam, Japanese sweets are very sweet. Japanese cookies and chocolate are sweeter as well."
And now for the long-awaited matcha!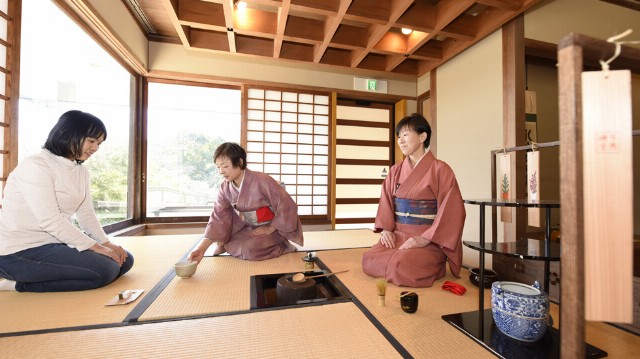 The carefully prepared matcha was placed in front of Gokkuran, but it is not quite the time to drink it yet. The carefully prepared matcha was placed in front of Gokkuran, but it is not quite the time to drink it yet. But now it's the time to try the matcha.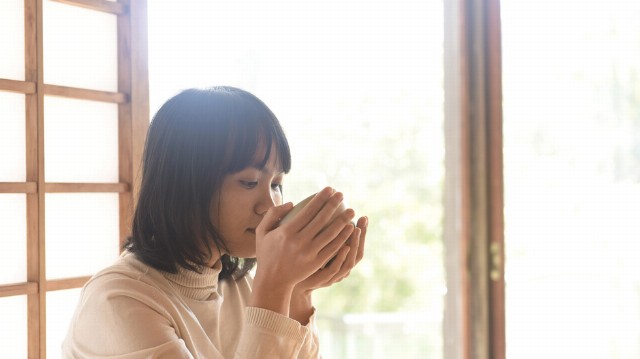 Gokkuran cautiously bringing the cup to her lips. "Delicious!" With a broad smile across her face, Gokkuran continued to drink the matcha. Even when asked if it was bitter, she replied no with a fine look on her face. "At first, I thought it would be sweet like juice, but from the aroma when making the tea I was able to imagine what it would be like. Not sweet, but not bitter. Delicious and very easy to drink."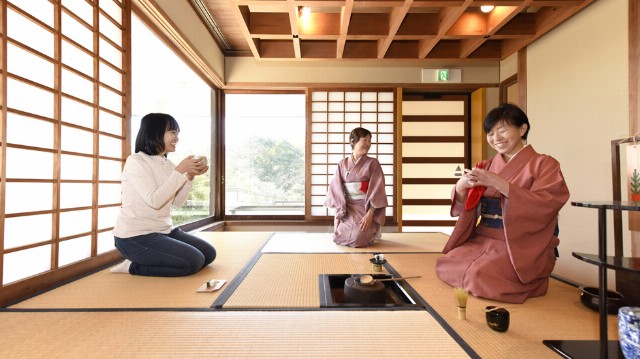 "I'm sure that people who like matcha flavored sweets will enjoy real matcha. While there is a slight bitterness that you don't find in the sweets, it has a strong and delicious flavor. In my country, matcha sweets are thought of as for children, but matcha itself is for adults, isn't it! I would love to let my friends try it!"
After enjoying the matcha, Gokkuran tried making the matcha herself, and her tea ceremony experience came to an end.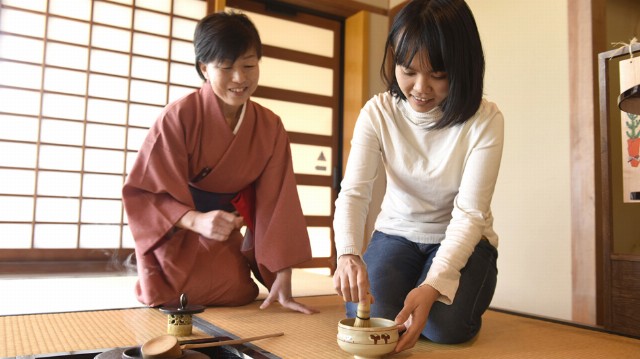 Learning the appeal of matcha through the tea ceremony. "The tea culture entered both Japan and Vietnam from China, so I thought there would be some similarities in the aroma and flavor, but it was totally different! I was surprised at the different way tea has developed, despite have the same roots. By the way, Vietnamese tea is very much like Chinese tea." One of the possible reasons that Gokkuran didn't find the matcha bitter was that she was already used to the taste as she likes matcha flavored sweets. "I'm going to return to Vietnam in March, so I'm planning on buy-in lots of matcha flavored sweets to take back with me. The tea ceremony was very enjoyable! Next time I am in Japan I would love to try it again with my friends!" It is exciting to think that matcha, one of the unique flavors of Japan, is becoming a global taste that is loved by people around the world.