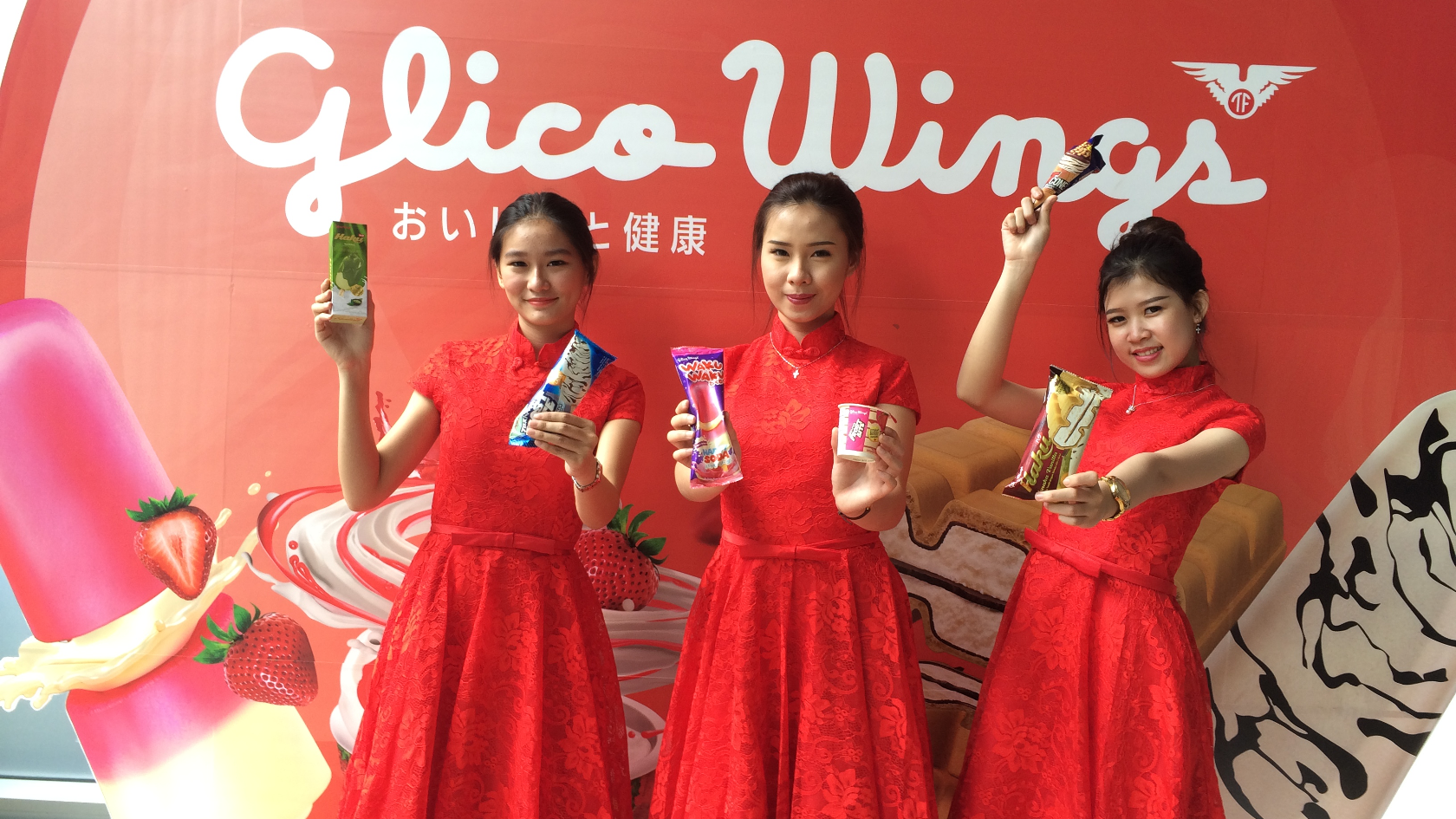 Glico Ice Cream Challenges The World's Market
More than a half-century after business began, Glico heads overseas.
November 16th, 2016 may become a significant date for Ezaki Glico in the future.

It was announced that on that date, Ezaki Glico began ice cream operations in Indonesia. It is the second country in their foreign expansion, following Thailand in January 2016.

Ezaki Glico began selling ice cream in Japan in 1953. After that, they continued to increase sales by putting out unique products one after the other, such as Giant Cone, a pioneer in ice cream cones; Papico, meant to be shared between two people; and Ice no Mi, ice cream made with an extremely characteristic shape. Currently, they hold the first place in the Japanese market for personal-size ice creams.

So why is Ezaki Glico now entering the foreign ice cream market, one country after the other? The reason lies in the challenges faced by domestic foodstuffs companies and Glico's unique chances of success.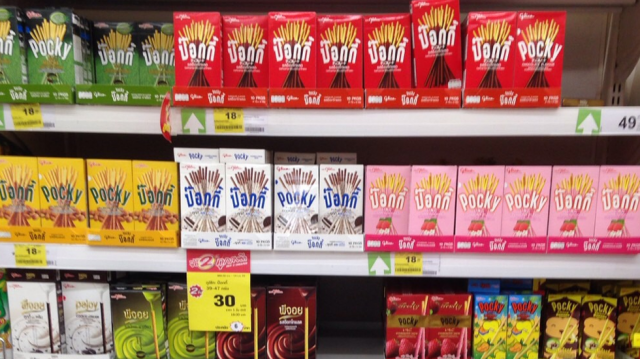 A display of Glico Pocky in a Thai supermarket
Challenges Faced by Domestic Foodstuffs Companies
In a country struggling with a decreasing birthrate and an aging people, leading to a decrease in population, the future of the domestic foodstuffs market cannot be called hopeful. For companies that offer luxury grocery items such as confectionery and ice cream like Ezaki Glico, there is worry that a lack of young people, especially children, will have a major influence on sales.

The strategy that they have decided to take as a response to this challenge is to widen their operations internationally. More than 40 years ago, they built a factory in Thailand that produced and sold their top selling product, Pocky, and now Pocky is sold in more than 30 countries and regions. Ezaki Glico is a trailblazer in Japanese confectionery companies expanding into foreign markets. Ice cream was chosen to follow sweets as the second pillar of the strategy used to expand into foreign markets.
The Influence of External Factors
Why choose now to expand ice cream operations overseas?
The biggest point is the evolution in refrigeration logistics system. In order to deliver ice cream from the factory to the consumer without melting, proper refrigeration and management know-how is necessary.

However, in recent years, these sorts of services have grown throughout southeast Asia, and delivering ice cream in good quality to those customers is now possible.

These factors are one reason behind the decision to set forth with their ice cream operations.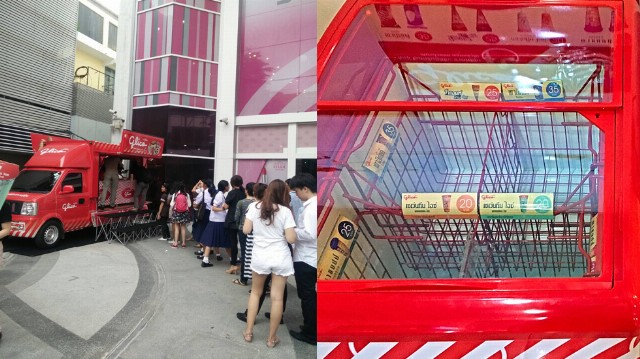 Left: Thai people buying ice cream at a supermarket. Right: A sold out ice cream fridge.
The Reliable Method Tested in Thailand
The first true expansion made in a foreign ice cream market was Thailand in January of this year.

In order to shorten the lead time before operations began in Thailand, production was entrusted to a local maker for brands that are familiar in Japan, such as Giant Cone and Palitte.

"Glico already had brand power in Thailand thanks to sweets like Pocky. In 2013, when short-term stay visa requirements were lifted, many more
Thai people began to visit Japan and Japanese brands became popular, so there was a high chance of success." - Mikio Kusama, Managing Executive Officer

That plan struck gold, and since the ice creams began selling in January, they grabbed the hearts of Thai consumers and continue to sell out immediately after delivery. In some areas, there have even been doubts on the Internet wondering if the supply was purposely being limited.

While the situation has been calming down, it can be said that Ezaki Glico's international expansion of ice cream operations had the perfect start.
Starting from zero in Indonesia.
On the other hand, they are facing Indonesia with a completely different strategy.

Production will occur in a new factory built in the Jakarta outskirts, and the products on sale are all entirely new products made to fit the Indonesia market. Also, the main managing company is a joint venture with a local company.
Mr. Kusama commented on these strategies by saying, "Compared to Thailand, the Glico brand isn't as well-known in the Indonesian market, and the local business practices and consumers' tastes are also different. In order to properly deal with that situation, we chose a joint venture. In a joint venture, we can use our partner's know-how and experience in union with Glico's strong, advanced marketing and technical power to quickly expand through the Indonesian market and move onto the next stage."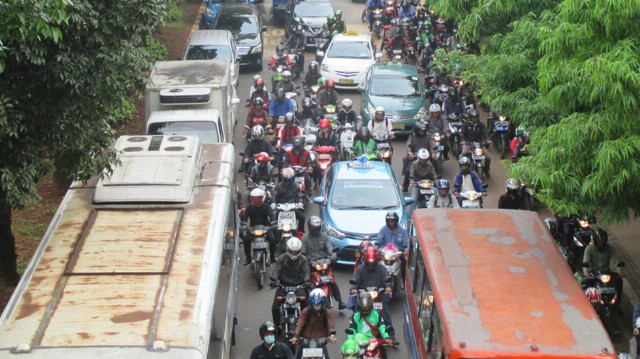 Rush hour in Jakarta, Indonesia's capital
Break open the market with new products of worth.
However, in both Thailand and in Indonesia, the markets are different from those in Japan. They are world giants with sales amounts of a few trillion yen. Plus, those rivals have already entered the market and hold huge shares.

How is Glico, which can be said to be a representative of Japan, going to challenge those giants? This is where Glico can make use of their strong points and create their unique value.

"Our company's strength is the development power to create unique products that don't exist in the current market. We offer new values to the consumers while firmly grasping the characteristics and needs of each country. That way, we don't struggle for existing shares, but instead we expand the market."
Mikio Kusama, Managing Executive Officer

Tastes, culture, religion…there are many challenges involved with food, and overcoming them is not easy. Someday, the value of Glico's products will take root in each country as a new part of food culture. During that time, after Glico wins the battle with the world's giants, November 16th, 2016 might become engraved in the company's history as a special day.

※Market status and job title of the page is a thing of the interview at that time.