Business Introduction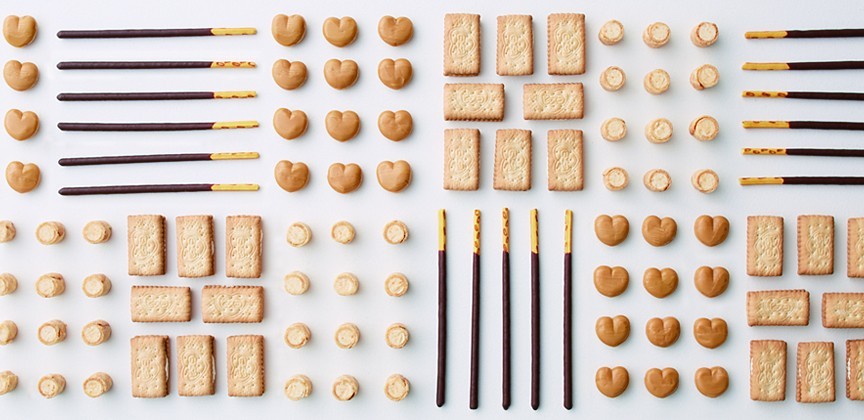 〈Confectionery Business〉
From long-sellers to ever-new and innovative products - confectionery is the core business that has introduced the Glico brand into to all parts of the globe.
To the delight of consumers of all ages, the confectionery business includes a wide variety of products including Pretz, Pocky, and Bisco that are all long-sellers.
Confectionery is a source of comfort in contemporary society that often experiences high levels of stress. Now and into the future, creative ingenuity is responsible for wholesome, tasty products that not only contribute to positive mental health, but that also open new ways for responding to the needs of the times.
No effort has been spared to contribute to good health as a result of developing such products as LIBERA that contains a dietary fibre that suppresses the absorption of sugars and fats, and GABA that is designed to curb stress.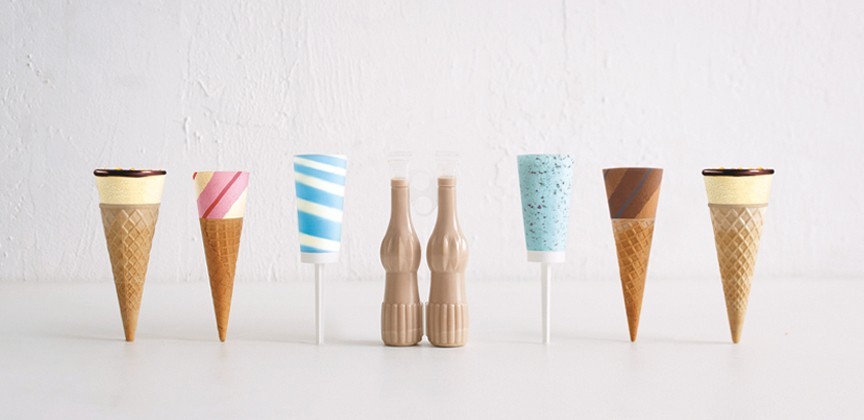 〈Ice Cream Business〉
Exploring new markets and food-consumption scenes by offering original product lines.
The Ice Cream Products Business offers a wide range of unique taste treats. They include the popular Papico that is sold primarily at convenience stores, the ice cream cone product entitled Giant Cone that has a rich chocolate and nut topping that ideally complements its creamy texture, and Seventeen Ice that is available from conveniently located vending machines. Recently, ever more focus has been placed on the development of high quality products that broaden the attraction of ice cream to adults..
Glico never ceases to direct its unique creativity towards the development of new tastes, forms, and food-consumption scenes that further expand the range of deliciously enjoyable products.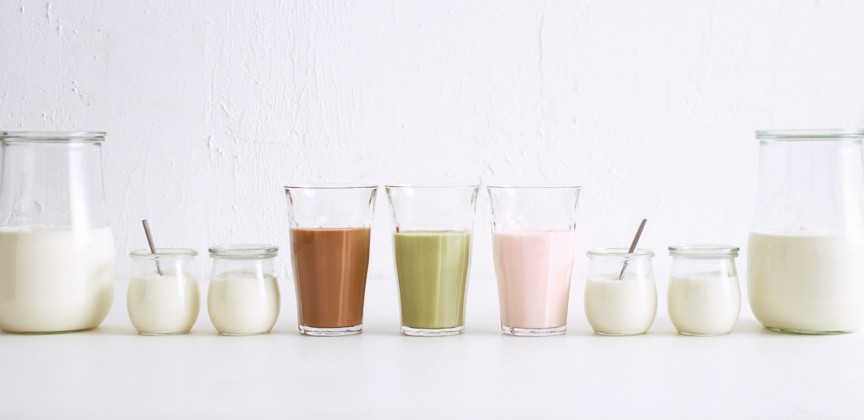 〈Dairy Products Business〉
Glico tastefully supports health of the mind and body through yoghurt and various dairy drinks.
In addition to their delicious taste, milk and other dairy products also contain beneficial probiotic bacteria that contribute to overall good health of the digestive system. The yoghurt brand BifiX, for example, contains strong bifidobacterium that multiply internally and contribute to maintaining a healthy intestinal environment. A popular long-seller, Café au Lait contains milk carefully selected to ideally match the comforting and wholesome tastefulness of Nel Drip coffee.
As milk and milk products are often consumed daily in one form or another, close attention focuses upon the raw materials for Glico yoghurt and dairy drink products. Research continues to bring forth ever-new products supporting health throughout every part of the body.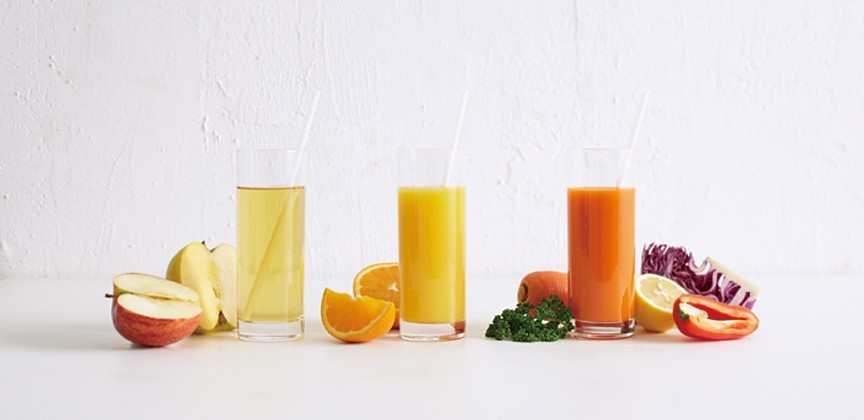 〈Fruit Juice / Soft Drinks Business〉
Containing nutritional elements that may have become deficient in the body, Glico beverages - both fruit juices and soft drinks - contribute to the enhancement of health for consumers of all ages.
The wide range of Glico beverages are formulated to complement the nutritional elements derived from vegetables or fruit and thereby augment what might have otherwise become insufficient for those leading contemporary lifestyles.
Yasai Taritemasuka, for example, is a fortified vegetable drink - that provides 120g of the daily requirement for green and yellow vegetables and is packaged in a convenient size that makes it easy to drink day-after-day.
Beverages for infants - individually selectable to best suit the appropriate month and age - are made from barley tea, fruit juice, and vegetable juice and otherwise contain only approved healthy additives.
As a result of focusing attention on raw materials and container volume, the line-up of Glico beverages not only supports the nutritional needs of both children and adults, but it also fits well into daily routines of even those living hectic lives.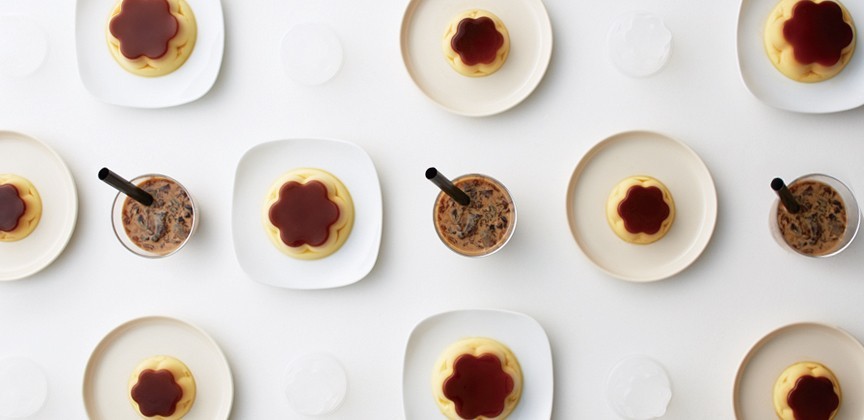 〈Western Confectionery Business〉
For Glico, the goal is to provide uniquely delicious taste treats.
Well-known throughout Japan for its appealing taste and texture, the current Western-Style Fresh Confectionery top brand is Putchin Pudding. It is packaged in a unique, flower-shaped container having a "Snap-Out" function that makes it simple and easy to serve with the soft caramel emerging on top. In fact, it is a long-seller product that continues to evolve even 45 years since its introduction.
Original formulation and production methods make possible the on-going introduction of ever-new taste treats of singular texture created from original recipes. Such products include Dororich - a drinkable dessert - and Torori Cream-On - a pudding product with a remarkably satisfying creamy taste and soft texture.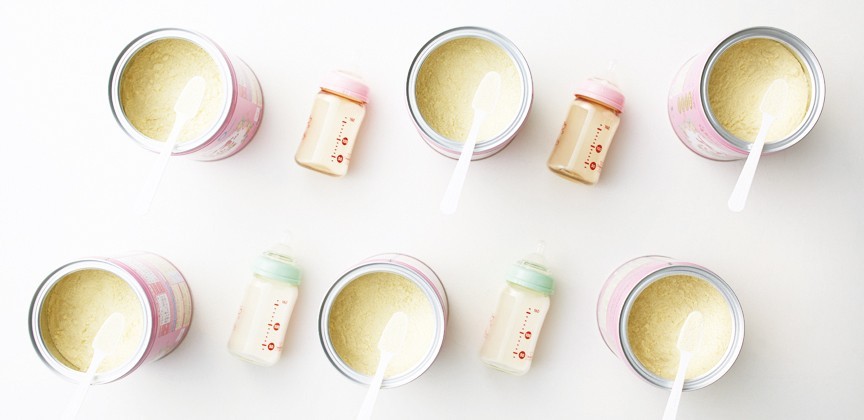 〈Baby Formula Business〉
Developing a powdered milk brand that positively supports infant health.
Responding to the input of concerned mothers, Glico developed ICREO Balance Milk - a baby formula brand earning widespread popularity throughout Asia. Renowned for its notably high quality, it is considered to be especially suitable for infants with stomach problems as well as for infants who otherwise refuse to drink anything other than breast milk. Meticulous attention is devoted to the raw materials of this remarkable Glico product to ensure that its nutritional value is as close to that of breast milk as possible.
Glico seeks to positively contribute to the physical health of mothers and infants. In addition, the development of ever-more effective products capable of comforting maternal uneasiness or anxiety should it be needed is an on-going goal now and into the future.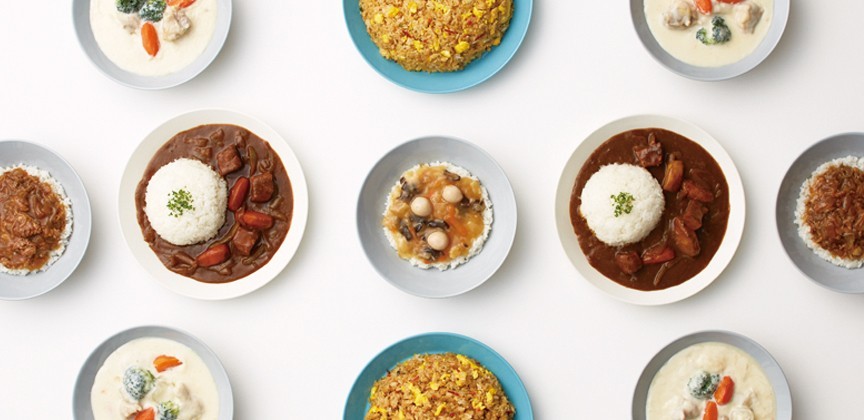 〈Processed Foods Business〉
Featuring easily prepared, stomach-satisfying food products that bring a smile to the face whether eaten alone or with others.
Offerings of this business include a variety of popular processed food products such as the Premium Juku series of curry roux, the ZEPPIN curry roux with a rich adult taste, the hearty Aunt Crea (Crea Obasan) Cream Stew, and DONBURI-Tei that is simmered in its retort pouch to be served over rice.
Developed through the application of unique Glico technology, these Dekitate Kakumei ( "freshly cooked" ) packaged products feature a freshly prepared palate experience even though they are simply reheated rather than being made step-by-step. They put smiles on the faces of diners whether eaten alone or with others. In today' s busy world, mealtime is liable to vary from person to person - even within the same family.
In any event, Glico seeks to provide wholesome tastefulness that nurtures the bonds of family and friends.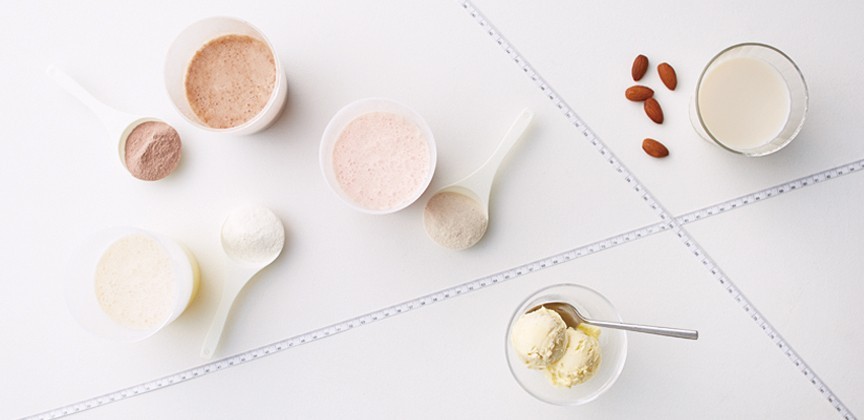 〈Health-Related Business〉
The products of this business seek to promote maximum health benefits in daily lives - at home, at work, and for sporting activities.
In keeping with the corporate philosophy of "A Wholesome Life in the Best of Taste", products of the Health Business have been developed to positively promote health and wellness.
Capitalizing on almond research over a period in excess of sixty years, Almond Kouka - made from almond milk - is an excellent source of Vitamin E. While maintaining wholesome tastefulness, each and every one of the flavours in the SUNAO ice cream series is low in sugar and calories. The Power Production series is made up of a wide range of specialized products - from sports drinks to high-purity protein products - that contribute to stronger, more athletic bodies.
This business emphasizes on-going product development with the goal of further expansion.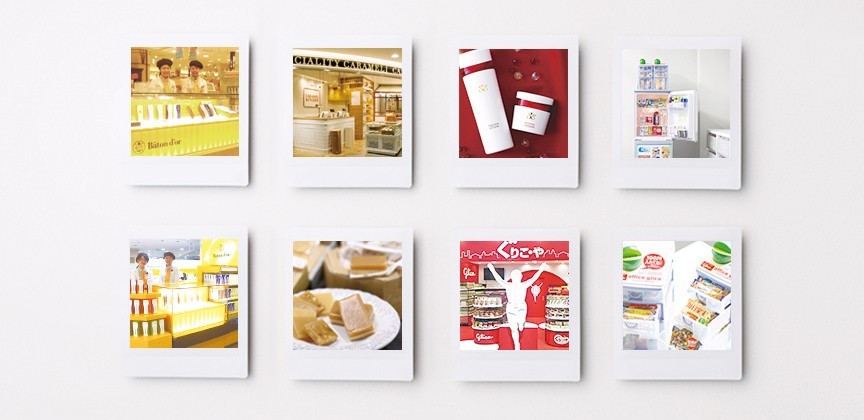 〈Store / Office / E-Commerce Business〉
Vending Glico products at offices and department store basement shops as well through mail-order services while rising to meet challenges of new situations.
Based on the concept of offering snacks and beverages in the workplace, Office Glico is a system through which "Refresh Boxes" and refrigerators are placed at company premises at no cost and then stocked with confectionery, ice cream, and beverages.
Thereafter workers simply take out what they want and leave an appropriate payment in the moneybox.
Glico continues to meet the emerging challenges of new market possibilities such as evidenced by the Pocky series Bâton d' Or targeted for department store basement shops, Glico-ya shops that supply local gift products featuring flavours unique to each local area, and the Glico Mail-Order Service that offers products not available at supermarkets.
The scope of activities goes beyond the boundaries of confectionery and food products. Bioglycogen, for example, is an enzymatically-synthesized glycogen that is used for cosmetics.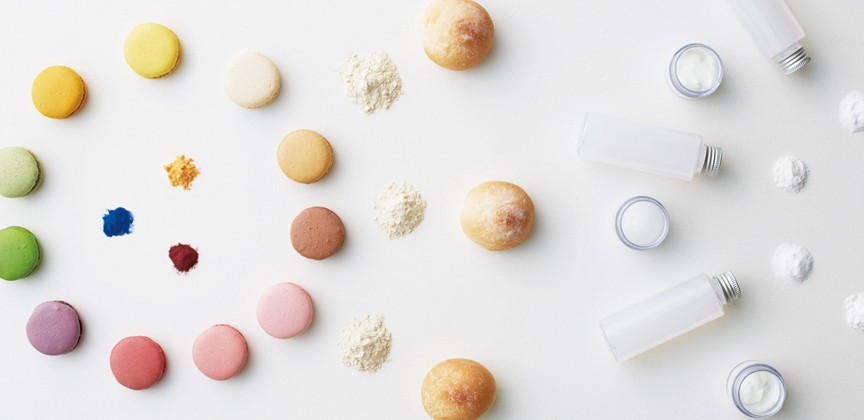 〈Food Materials Business〉
Offering a wide variety of food and fine chemical materials based on research results and technological findings accumulated over 50 years.
Glico supplies various food processing manufacturers with a wide range of such products as wheat protein (gluten), various starches derived from wheat, tapioca, and potatoes, and colours derived from red rice malt as well as Gardenia-derived Kuchina Colour and Monas Colour that are extracted and refined from the Monascus purpureus species of mold.
Highly evaluated around the world, Glico research results for saccharides and saccharide processing have resulted in such fine chemical materials as Cluster Dextrin and Bio-glycogen.
Main Materials
---
Overseas Businesses
Glico entered the global marketplace in 1932. Today, 18 Glico group companies operate business in 12 countries.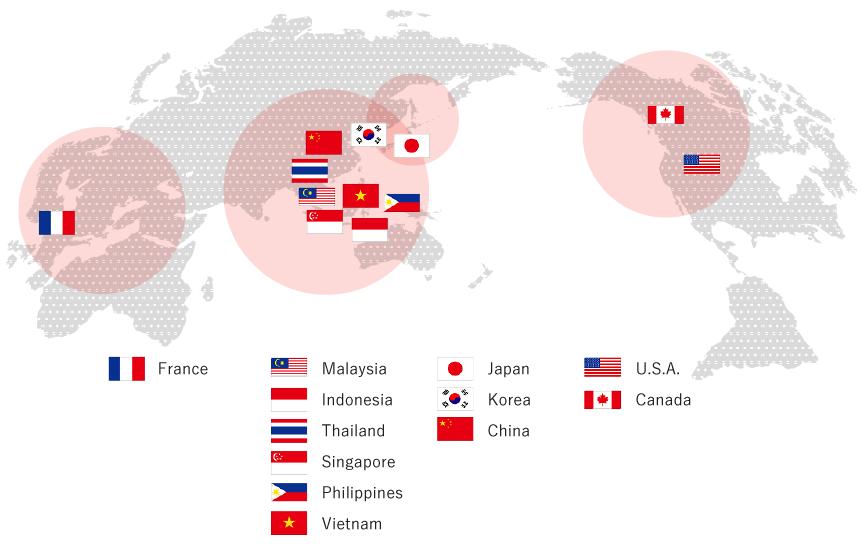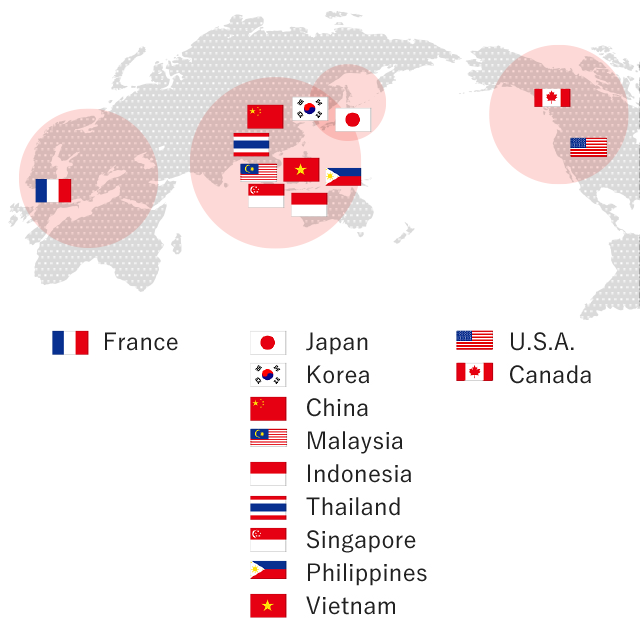 East Asia
Since its establishment in 1995, Shanghai Ezaki Glico Foods Co., Ltd. has continued to provide the Chinese market with relevant innovations that integrate Chinese food culture with Japanese snacks. The company manufactures and sell Pocky, PRETZ and Pejoy for consumers across the country. In 2016, it entered the e-commerce market to stay ahead of China's rapidly expanding digital economy, and continues to grow both online and offline.
Glico - Haitai Co., Ltd. is a joint venture with Haitai Confectionery in Korea to sell Pocky.
Glico Taiwan Co,. Ltd. is involved in the development of confectionery, processed food and ice cream business, etc.
Southeast Asia
Glico sees ASEAN as pivotal in its expansion overseas. In 2017, Glico Asia Pacific Pte. Ltd. was set up to headquarter the region's offices as part of its ambition to grow and cement its standing as a consumer favourite. Glico has been a key market player in Thailand for the past 50 years, selling and locally manufacturing snacks like Pocky and PRETZ. Our Indonesia, Malaysia and Philippines offices oversee local marketing and sales activities. Our ice cream business in Thailand and Indonesia have received praise for its premium Japanese quality. More recent developments include our infant formula foray into Vietnam.
North America
Ezaki Glico USA Corporation deals with the sales of Pocky and PRETZ. Glico Canada Corporation also handles other food products such as Glico Curry. In 2018 we acquired TCHO Ventures, Inc. that is also actively involved with sales and manufacturing of chocolate confectionery.
Europe
General Biscuit Glico France S.A. is a joint company with General Biscuit, sells MIKADO - the European version of Pocky.