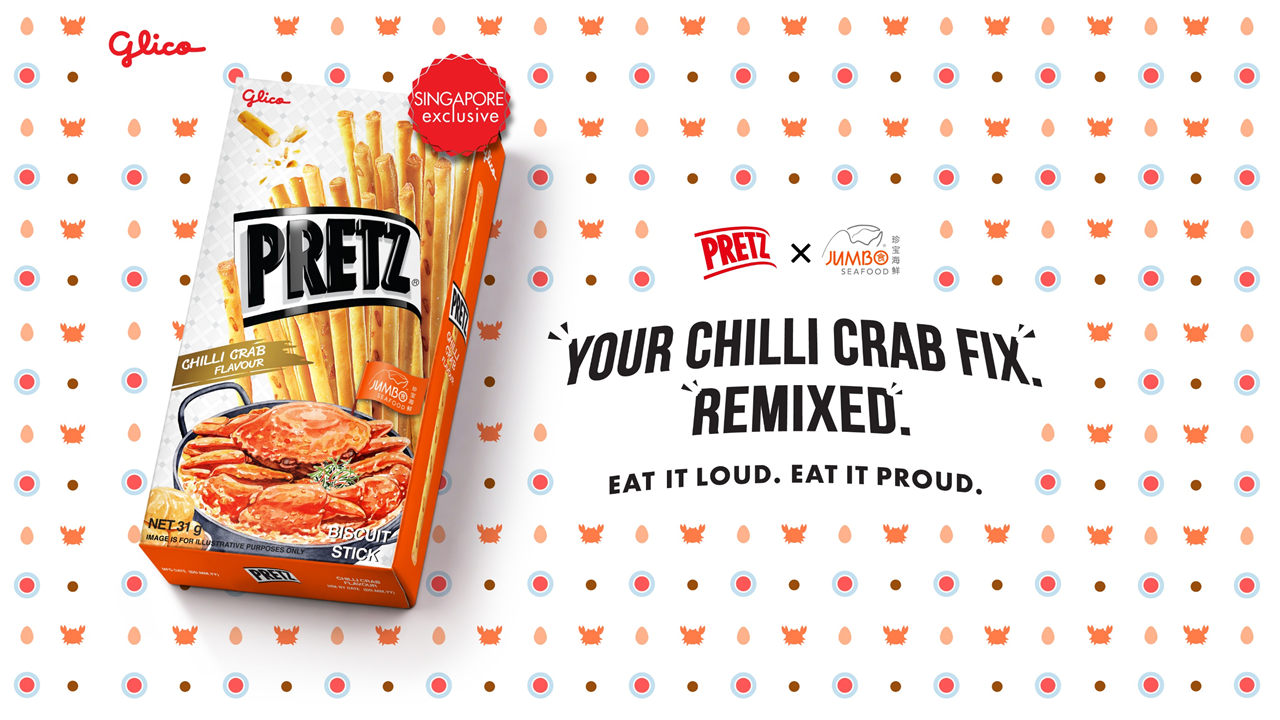 PRETZ x JUMBO Seafood Chilli Crab Is In Town! GLICO & JUMBO Seafood Launches Singapore Exclusive Chili Crab Biscuit Sticks.
We are pleased to announce the launch of the new PRETZ x JUMBO Seafood Chilli Crab. This is the first-ever collaboration between famous homegrown seafood restaurant chain, JUMBO Seafood and leading Japanese confectionery company, GLICO.

You can now enjoy the flavours of JUMBO Seafood's award-winning chilli crab in the form of PRETZ's biscuit sticks. PRETZ X JUMBO Seafood Singapore Chilli Crab will be exclusively available in Singapore from 1st November 2019.
"We want to celebrate iconic Singaporean cuisine and through discussions with the Singapore Tourism Board, Chilli Crab emerged as one of the top dishes that is representative of Singapore. Glico's decision to partner JUMBO Seafood to develop the PRETZ X JUMBO Seafood Chilli Crab was intuitive as they have undoubtedly captured the taste buds of both locals and visitors alike with their famous Chilli Crab," - Mr Ian Leong, Regional Brand Manager, Glico Asia Pacific Pte Ltd.
PRETZ x JUMBO Seafood Chilli Crab
Exclusive to Singapore, PRETZ x JUMBO Seafood Chilli Crab will be available at all JUMBO Seafood outlets and the majority of the NTUC Fairprice outlets in Singapore from 1st November 2019. While stocks last.
Limited Edition PRETZ X JUMBO Seafood Merchandise
To celebrate the launch, JUMBO Seafood will be giving away a limited edition A4 PRETZ X JUMBO Seafood folder with every 10-pack purchase. This offer is only exclusively available at JUMBO Seafood outlets. While stocks last.
>> JUMBO Seafood outlets in Singapore
PRETZ x JUMBO Seafood Social Media Giveaway
Get creative & stand a chance to win S$100 JUMBO Seafood dining vouchers by simply posting a photo of the PRETZ x JUMBO Seafood Chilli Crab against landmarks in Singapore on Facebook or Instagram with the hashtag #JUMBOXPretz. There will be 3 lucky vouchers up for grabs! The contest period is from 11 to 25 November 2019.
>> Read more details in Facebook JUMBO Seafood Singapore @JUMBOSeafood
>> Instagram JUMBO Seafood Singapore @jumboseafoodsg
About PRETZ
PRETZ officially launched as a sweet snack in 1963, becoming one of Glico's long-standing brands. Now with a wider range of flavours, it has garnered fans from all walks of life.
Its long, slim stick shape breaks with a nice snap and can be easily enjoyed as an accompaniment alongside any activity. PRETZ's brand promise 'Hello, me time!' is a representation of its mission to enable customers to enjoy uninterrupted moments of being fully absorbed in the things they love.
About JUMBO Seafood
Established in 1987, JUMBO Seafood is a home-grown seafood and crab specialist, famed for its Award-Winning Chilli Crab. Serving high quality live seafood cooked Singapore-style, JUMBO Seafood has 6 outlets in Singapore. Overseas, it boasts 12 outlets across Asia.
JUMBO Seafood is a dining concept by JUMBO Group of Restaurants.