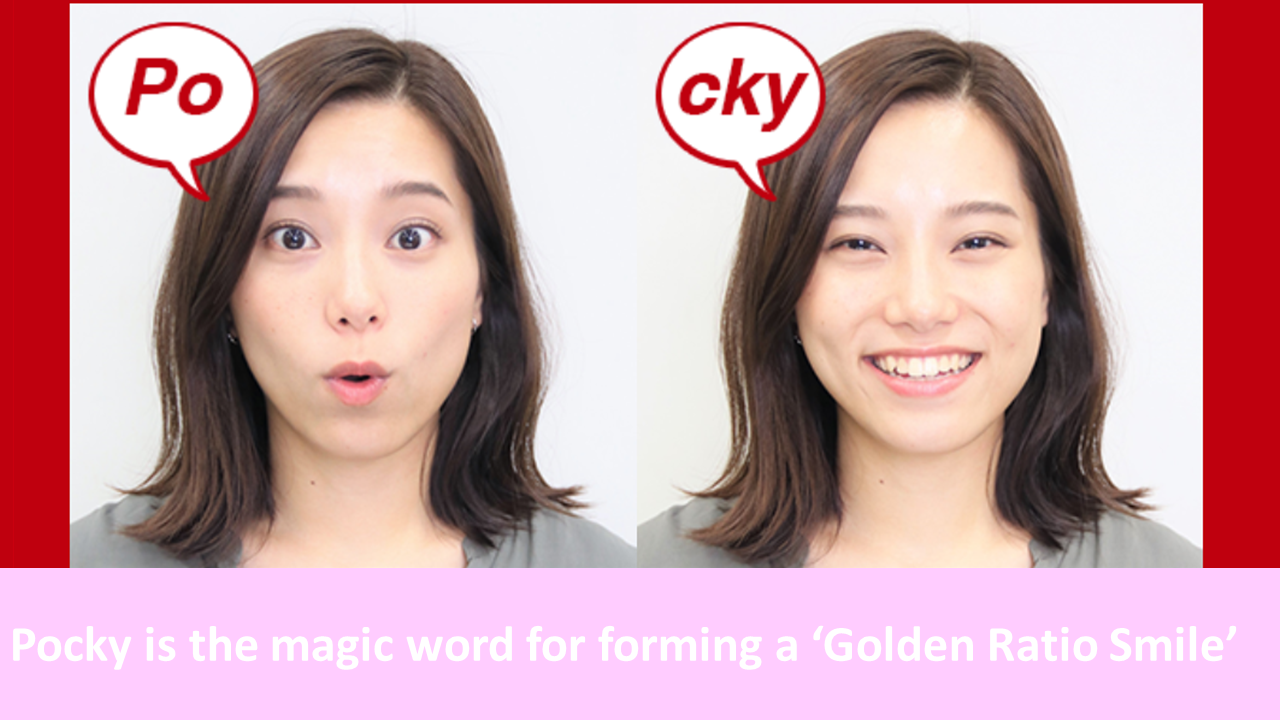 Pocky is the magic word for forming a 'Golden Ratio Smile'
In order to determine whether "Pocky" really is the "Golden Ratio Smile" for making people smile in photographs, we performed an experiment with the assistance of some 200 students.
In the experiment, for comparison purposes we used 7 different words used when taking photos around the world: "Cheese" (the US), "Kimchi" (Korea), "(*2)" (Mexico), "Spaghetti" (Germany), "(*2)" (Africa) and "Qiezi" ("eggplant"; Mainland China) as well as "Pocky".
We asked them to subjectively rate the words out of 100 based on how well saying each word caused them to smile.
The final survey results showed "Pocky" having an average score of 77, while the other words were all in the 60s, with "Pocky" easily outstripping the others in making the respondents smile.
Most of the students responded that "The popping sound of the po- feels good and it was easy to smile naturally" and "The -y sound at the end makes it easy to smile".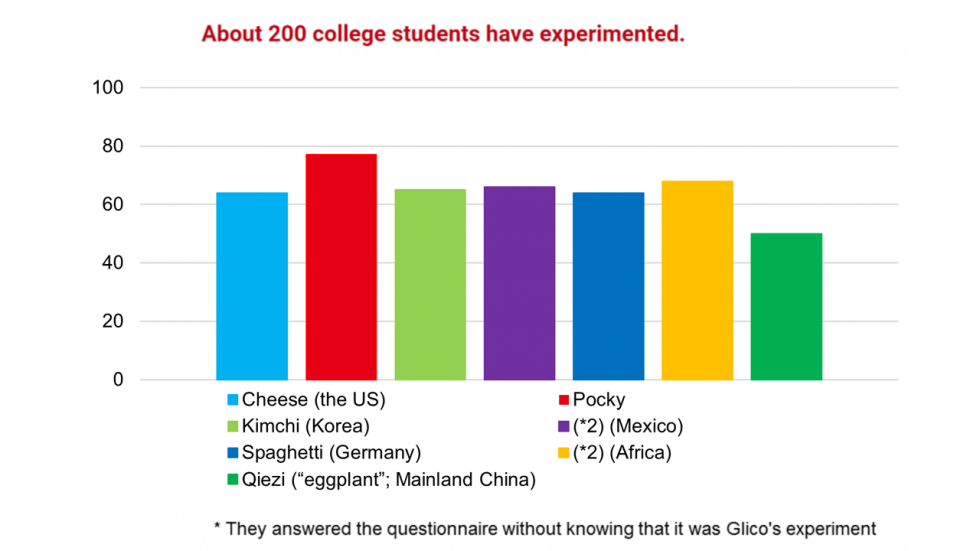 Furthermore, under the supervision of the Smile Researcher Professor Sugahara, we also performed an experiment with a face reader in order to analyze the smiles actually created by these photographers' phrases. "Pocky", more than the others, was found to easily produce a "Duchenne smile", the ideal standard of smiles.

Duchenne smile
This sort of smile is generally called a Duchenne smile (named after the 19th century French neurologist, Duchenne de Boulogne), which indicates a heart-felt facial expression in which the eyes are smiling and the muscles around the mouth and eyes are actively engaged. It is said that only 23% is able to make this "Duchenne Smile" with your own will.

Pocky is the magic word for forming a 'Golden Ratio Smile'
In fact, in order to bring out a smile that gives a good impression and lasts in the memory, you need to warm up your muscles.
Stretching your "sleeping" mimetic (facial expression) muscles immediately before you produce a smile enables you to form a Duchenne smile, also known as a genuine smile, without any trouble.

When you call out "Pocky," you open your eyes and stretch your cheek muscles to form a facial expression of surprise with the "Po," then you can effortlessly form a facial expression close to a smile with the "cky." Thoroughly warming up your cheek muscles lifts the corners of your mouth enabling you to give an appealing Golden Ratio Smile. You might say that pronouncing "Pocky" when you take your photos is a technique you can immediately put into practice for taking photos of your smile.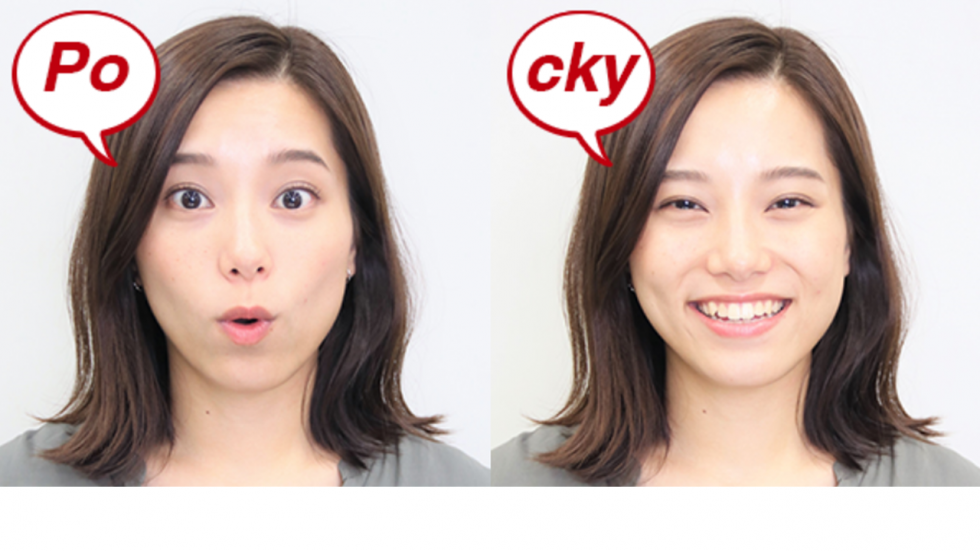 Acclaim from Smile Researcher, Dr. Toru Sugahara
Born in Dazaifu, Fukuoka. Completed the Doctoral Program of the Department of Bioscience and Textile Technology, Interdisciplinary Graduate School of Science and Technology, Shinshu University, and was awarded his Ph.D. (Engineering) in 2005. Former Professorial Assistant, Faculty of Human Sciences, Waseda University; Assistant Professor, Faculty of Human Sciences, University of Human Arts and Sciences; and Extension Center Lecturer and Contract Lecturer, Faculty of Human Sciences, Waseda University. Currently Visiting Researcher, Advanced Research Center for Human Sciences, Waseda University; Contract Lecturer, Faculty of Information Sciences and Arts, and Visiting Researcher, Research Institute of Industrial Technology, Toyo University; Engineering Adviser, Tokyo Metropolitan Industrial Technology Research Institute; Representative Director, Society of Smile Science (SSS). Currently engaged in "research into the mechanisms and generation of smiling aimed at kansei formation" and has received multiple academic awards for this research.
SSS Representative – Kansei Value Producer

Toru Sugahara Ph.D. (Engineering)
Related Articles