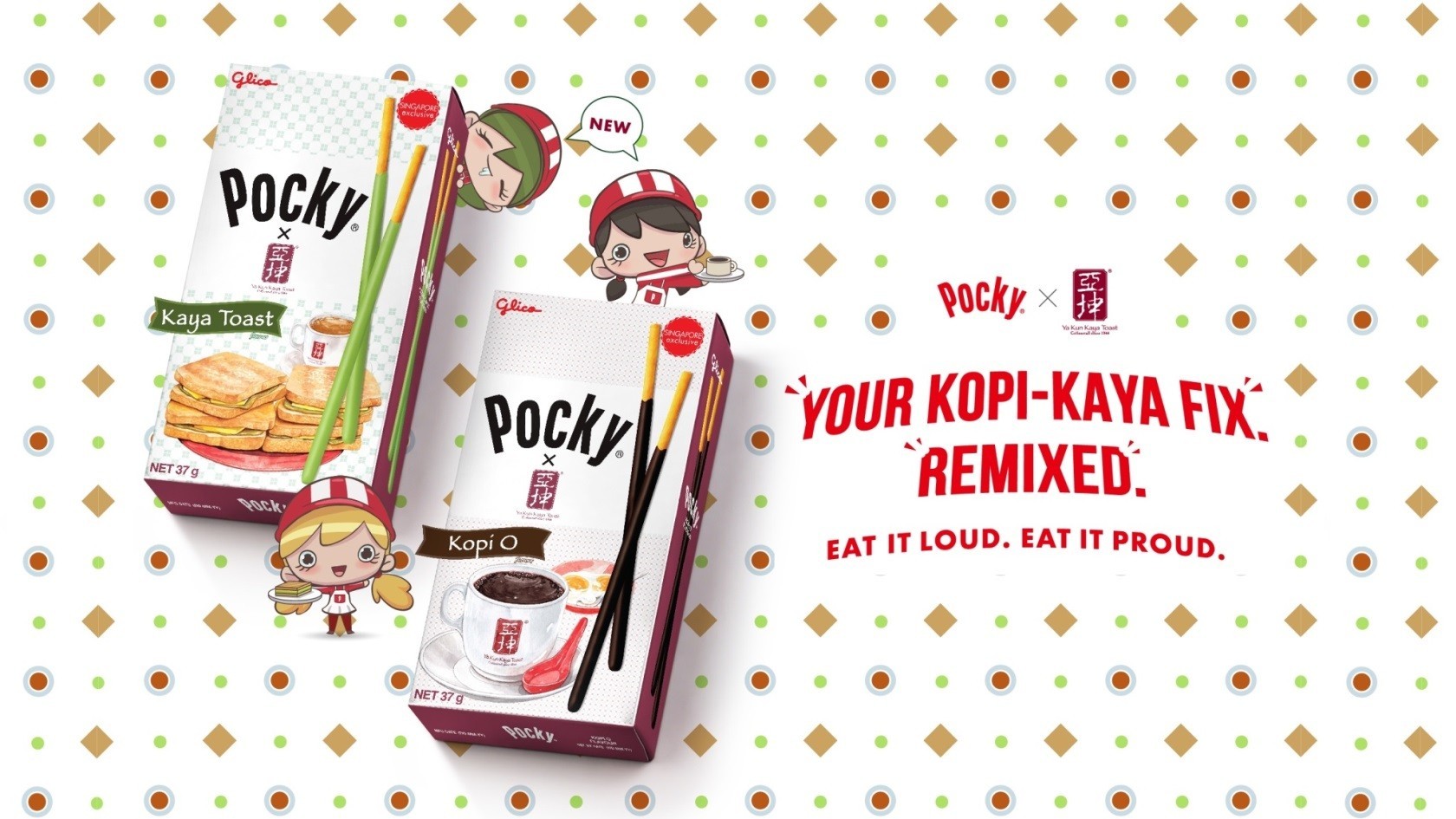 Eat It Loud, Eat it Proud: Iconic Singaporean Breakfast remixed with Pocky X Ya Kun Kaya Toast & Limited Edition
Glico celebrates the much loved classic Singapore breakfast of Kaya Toast & Kopi O by partnering with the iconic heritage Singapore Kaya expert: Ya Kun Kaya Toast to create the first ever Singapore exclusive Pocky flavours of Kaya Toast & Kopi O!
SINGAPORE, 12 JULY 2019
Glico is excited to bring celebrate the flavors of one of the most famous food hubs in the world: Singapore. Fueled by the national food obsession, we have selected one of the most iconic Singaporean meals to be transformed into Pocky – the Singaporean Breakfast of Kaya Toast & Kopi O. The perfect pairing of fragrant pandan scented coconut jam and local style black coffee creates a flavor experience that is deliciously unique to Singapore!

To ensure flavor authenticity in nation of self-proclaimed foodies, Glico has partnered with the most iconic local heritage kaya toast & coffee expert: Ya Kun Kaya Toast to co-create the Pocky X Ya Kun Kaya Toast and Kopi O Established in 1944, Ya Kun Kaya Toast has been delighting locals and visitors alike with their traditional Kaya Toast & Kopi; made in the same traditional method for 75 years. It is due to the shared high standards of flavor, quality & authenticity that after numerous research and development trials that Glico and Ya Kun are proud to launch this Singapore exclusive flavor.

The Pocky X Ya Kun Kaya Toast and Kopi O flavours will be launched exclusively in Singapore during the STREAT event, which is the anchor event of the Singapore Food Festive (SFF), the most highly anticipated food event by the Singapore Tourism Board (STB) that's now in its 26th year. Thereafter it will be exclusively available in all Ya Kun Kaya Toast outlets islandwide from 14 July 2019.
Read full article here:
About Pocky
In 1922, Japanese company Ezaki Glico Co., Ltd. launched its fortified Glico caramel in a distinctive red box. Forty-four years later (1966), Ezaki Glico released a new product into their family of fine foods—a chocolate-dipped, pretzel-like biscuit stick. Pocky is now selling in about 30 locations around the world.
About Singapore Food Festival
This year, the Singapore Food Festival (SFF), Singapore's only event dedicated to local cuisine and local talent, celebrates our multicultural heritage with a reprisal of the theme, "Savour Singapore in Every Bite". A total of 20 event partners offering myriad dining concepts and gastronomic experiences has come together for a three-week celebration of Singapore's dining culture from 12 to 28 July 2019.

SFF celebrates the pioneers of our local food scene and encourages the innovation of Singaporean cuisine. It also aims to engage local and foreign visitors through sharing more about authentic Singaporean flavours and the culinary talents behind them.

Ms Ranita Sundramoorthy, Director of Retail and Dining, Singapore Tourism Board (STB), said: "The Singapore Food Festival continues to spotlight our vibrant and evolving local food scene that has been anchored by our unsung hawker heroes, home cooks and chefs. With this year's robust line-up of events, from private chef dinners and food tours around our heritage districts, to theatrical dining experiences – Singaporeans and visitors will be able to taste Singapore's diverse flavours and experience our food obsession first-hand."

"In its 26th year, the Festival continues to be a highlight on the Singapore foodie calendar. SFF is a compelling testament to the richness and diversity of our food scene, further cementing our city-state's reputation as a global culinary capital," she added.