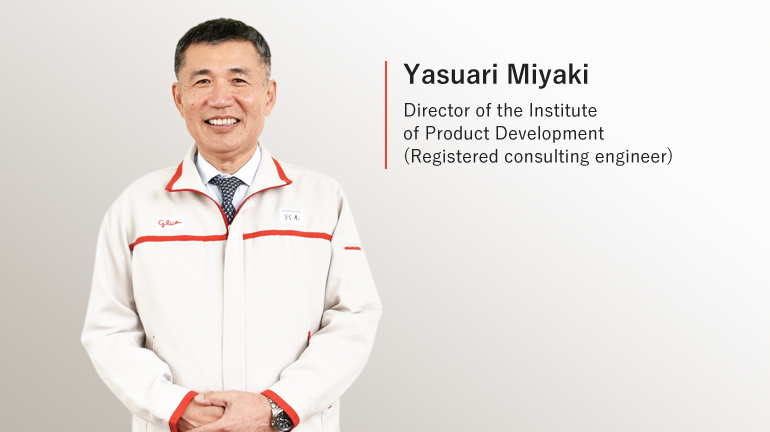 Q. What work does Glico's Institute of Product Development take on?
Miyaki: The work of the Institute of Product Development is to give shape to plans that meet customer needs and wants, turning them into foods that customers can eat with a sense of satisfaction. Developing a new product does not mean creating a totally new product that has never existed before and would appear strange to customers. We change tastes, flavors, colors, and sizes while engaging in steady research, and develop attractive products by processing foods that customers are familiar to eating, to make them more delicious and easier to eat. We create products with tastes and textures that customers have never been aware of, but novelty or enjoyment alone would not make the product successful and would only satisfy the developer. Since what customers want changes with the times, product development needs to take such changes into account.
Q. Where does the uniqueness of Glico's Institute of Product Development lie?
Miyaki: I believe our work is to make customers feel, "It's yummy. I'll buy it again." after purchasing a product and eating it. If they do not repeatedly make purchases, we have not fulfilled our work. It is a shame for those developing products to see a decline in the repeat rate. To ensure repeated purchases, we are equipped with the function of creating quality products by connecting knowledge of raw materials and production facilities with customer feedback, and I think this function is our the uniqueness of our job. The work of product development is like the first runner in a relay. But the work does not end at the time when we pass the baton to the second runner (the production department). We observe the race or run side-by-side until the baton is passed to the third runner (quality control) and the fourth runner (logistics sites). In other words, I believe our work is from the planning stage to the time when customers consume our products.
Q. Where does Glico place importance in terms of quality and development?
Miyaki: Glico has a history of more than 90 years. At the time of our foundation, we were a latecomer and needed to differentiate ourselves from other companies to enter the market. Unlike now, it was an era when food choices were not abundant, so products sold well just by implementing a differentiation strategy. But the market is saturated with food choices now, and the market environment is becoming harshly competitive. Accordingly, we do not engage in differentiation that does not benefit customers. We can make red ice cream or purple curry rice if we want to do so. But who wants to buy them? (laugh) Using colors that are different from normal ones is only visual differentiation. I believe Glico's development is differentiation that makes our customers realize the value of our products, making them really feel that our product is delicious, please their loved ones when given as gifts, help them to cut down cooking time or have a good sleep, or energize them.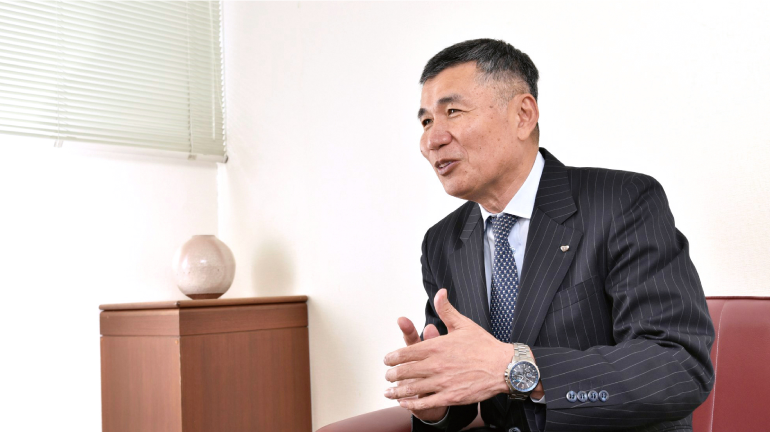 Q. Please describe human resource development at the Institute of Product Development.
Miyaki: I say to researchers at the Institute, "Hurry and be a professional business-person." "Professional Business person" means becoming a person who has knowledge of raw materials and food-processing technology, knows the manufacturing process, and understands the feelings of our customers. I think it also means a person who knows the areas they can handle, who can ask others or do research in the areas they cannot handle, and who can make decisions logically. I want researchers to be able to communicate as a business person and promote necessary work by getting other departments involved and taking the leadership, rather than just being able to manufacture products. The Institute of Product Development strives to nurture people that can play active roles anywhere, whether within or outside the company. The Center's work is to turn people with science and engineering degrees into a professional business person.
As long as people have a science or engineering degree, can make hypotheses on their own, think logically, and determine the shortest route, we do not care about their major. We will nurture them into a professional business person no matter what their major is. However, unless they like manufacturing and eating and are interested in food, they may not be suited for this work.
Q. What do you want to realize at the Institute of Product Development?
Miyaki: I mentioned previously that the Institute of Product Development's work is to urge customers to make repeated purchases at stores after purchasing and eating our products. If such purchases are repeated, products will be sold in a stable manner and become standards. If a product continues to be sold for 30 years or so, parents will have their children eat it, and the standard will become a brand. Of course, the product will not be exactly the same as what it was when parents ate it due to a number of improvements and changes to its taste, texture, quantity, size, price, and other factors. Nevertheless, parents will have their children eat what they ate when they were a child, and children will eat what their parents ate with peace of mind. We go about our work hoping to develop as many long-selling products as we can which will be passed from parents to children while incorporating changes in the times and customer preferences.