Products
1.Confectioneries
The Enjoyment of Tasty Treats
Pocky: a Unique Idea Becomes a Top Seller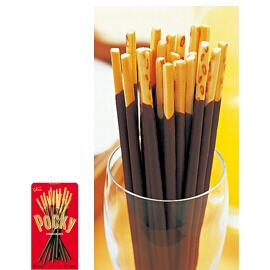 Pretz was already a popular pretzel stick snack item. The simple concept of covering it with chocolate was the beginning of Pocky. The innovative new idea of leaving an uncoated end came about in the process trying to figure out how not to soil the fingers with chocolate.
Featuring convenience and a unique shape, Pocky has since been a long-selling market leader. Promotion campaigns for Pocky have included such slogans as "Pocky on a Trip" to advertise its convenient portability and "Pocky on the Rocks" to draw the attention of adults that it is a taste treat served "on the Rocks" in a wine glass at drinking establishments. Over the years, many new variations – such as strawberry flavored or Almond Crush that is topped with finely crushed almond bits – have become available.
Confectionery available from Glico incorporates the accumulation of ideas including the harmonization of chocolate and snacks, the creation of enjoyment that extends to all generations, the breaking of geographic border barriers, and the ability to bring smiles to the faces of consumers around the globe.
With Our Customers in Mind
Our extensive product lineup results from an unfailing pursuit of ideas incorporating originality and resourcefulness in such a way that they earn positive customer support. Pretz, Pocky, Almond Chocolate, Caplico [chocolate shaped like ice cream cones available in either chocolate or strawberry flavors], and Bisco, for example, are the results of such "Glico-original" ideas.
For products to remain popular, reliable quality and affirmative marketing are essential. In keeping with this, every possible action is taken to positively respond to the ever-diversifying tastes of customers. As a result, the Glico brand has earned trust and has been a top-branding leader in the market.
Premium Adult Snacks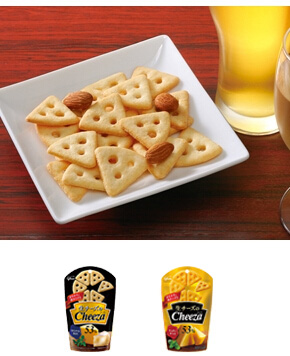 The idea of encouraging adults to experience the joy of eating confectionery brought about the development of new confectionery products that tastefully complement alcoholic beverages.
In Japan, it is customary to serve such snacks as nuts, lightly fried seafood items, or rice crackers with alcoholic beverages. Building on this, Cratz - launched in 2005 – has earned praise as one of the best snacks with beer. Other products creatively developed to satisfy leisurely adult moments are Cheeza – a cheese cracker that provides a freshly-baked, crispy sensation that goes well even with wine.
Good Snacks in Good Health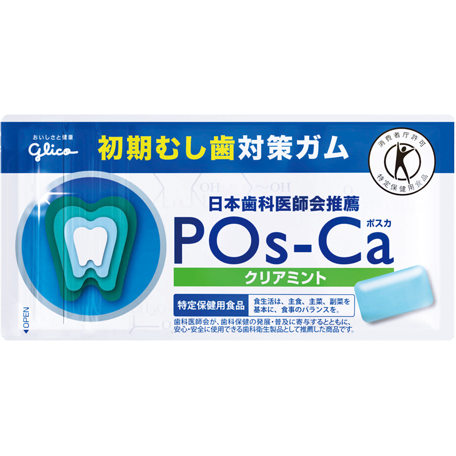 Glico has continued its research to incorporate functionality into confectionery. One example is POs-Ca gum that enables the calcium it contains to mix with saliva in such as way as to remineralize teeth and thereby make them stronger.
Since research has shown that a coated, dirty tongue is the leading cause of bad breath, another functional item is the Breo breath mint that also acts to clean the tongue.
In addition, there is GABA – a chocolate that focuses on the sensation of relief that comes with eating chocolate. This product incorporates Gamma-Amino Butyric Acid that plays a vital role in regulating neural excitability throughout the nervous system and that is responsible for the regulation of muscle tone.
Through such products, Glico continues to innovatively create new joys of eating confectionery.
2.Ice Cream and Ice Products
Tasteful Excitement in Every Single Bite
Enjoy the Variety of Forms and Tastes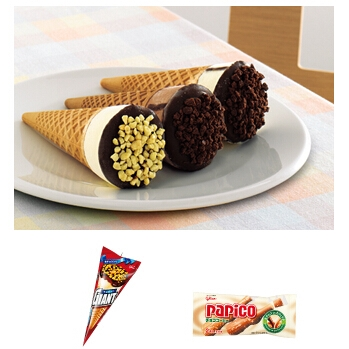 Glico ice cream and ice products each feature unique characteristics unmatched by any competitor. Already established in their own market segments are Giant Cone, an ice cream cone topped with nuts and cookie chunks, Papico, sherbet packaged in two single serving sized tubes, and Aisu-no-mi which are bite-sized round sherbet balls.
Whether eaten alone, with a friend, or with the whole family, Glico brand ice cream and ice products have been developed incorporating "Glico-original" ideas to satisfy various consumer needs.
Out of Consideration for Calorie-Counters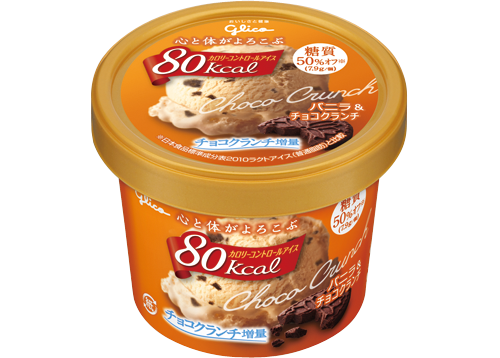 To fulfill the needs of those who count calories but also wish to eat tasty ice cream, Calorie Control Ice combines a low-calorie sweetener and a Tofu-based raw material to make possible a mere 80 kcal per serving. This is yet another example of how Glico spares no effort to support pleasant lifestyles among its customers by offering a broad spectrum of innovative ideas.
3.Processed Food Products
Bringing the Joy of Good Health to the Dinner Table
Offering Wholesome "Glico-original" Tastefulness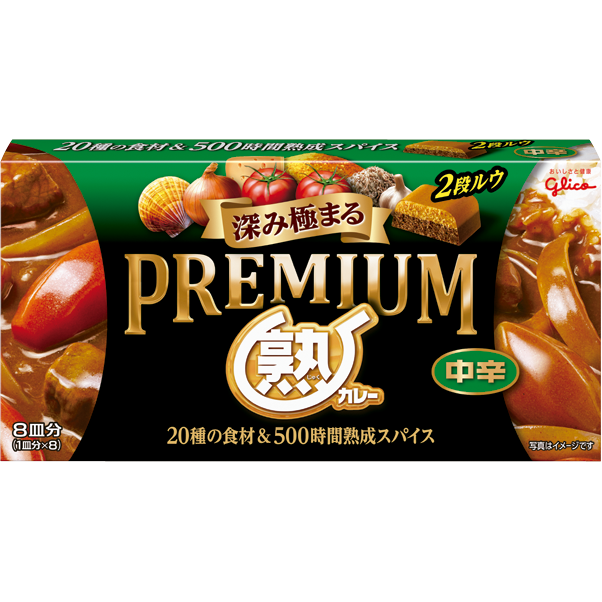 Featuring a matured body and pleasant aroma, Juku Curry is produced incorporating "Glico-original" methods based on years of experience in the production of confectioneries. The refined nutritious tastefulness that results from overlaying a layer of strong-body roux with a layer of fragrant roux has met with such warm customer approval that this product has secured a strong foothold in the market.
Donburi ※ Tei [Instant Rice Bowl Topping] features genuine Japanese tastefulness. Packaged in a retort pouch for easy heating, this product is quite successful in the marketplace due to the overwhelming customer appeal.
※ a Japanese "rice bowl dish" consisting of fish, meat, vegetables or other ingredients simmered together and served over rice. Donburi meals are served in oversized rice bowls also called donburi.
Stimulating Consumers to Smile Anytime, Anywhere
Simply pour over rice! Curry Shokunin was specifically created to provide the convenience of being able to enjoy a rich, creamy curry even at room temperature. This product has gained the support of discerning customers who appreciate the concept of having a ready-to-eat curry even in the case of emergency.
At all times in all places, Glico seeks to put smiles on the faces of everyone around the dinner table by offering tasteful, high-quality products that are simple to prepare. Another such curry product is Beef Curry LEE featuring a spicy-hot taste.
4.Dairy Products/Desserts
Joy Contributes to Tastefulness
The Unique Originality of Glico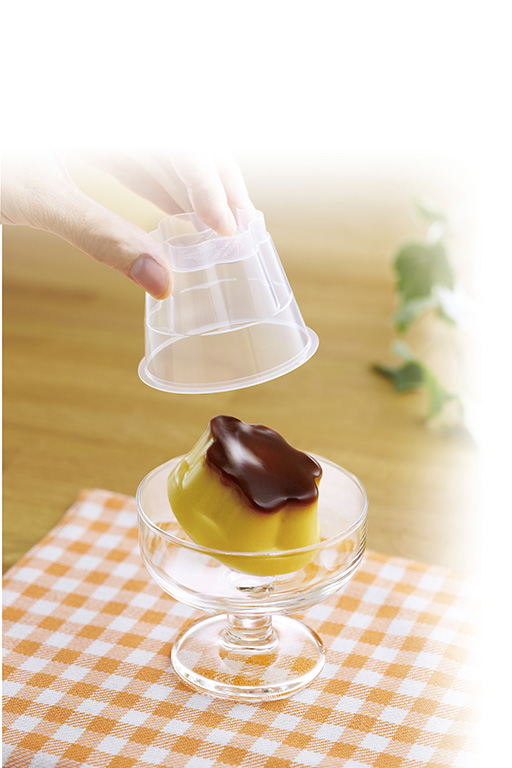 Pucchin Pudding is well known throughout Japan for its appealing taste, palate-pleasing texture, and unique flower-shaped container. In 2012, sales of this popular Glico product surpassed the 5.1 billion mark.
The success of Pucchin Pudding can be traced back to when the development team was striving to find an efficient, practical method to serve this product in a manner similar to that practiced in pastry shops where a pastry chef or server turns the container upside-down over a plate and pokes a hole with an ice pick to make it possible for the contents to slide out smoothly and efficiently so that the soft caramel underneath flows out to be on top. However, it took much thought, effort, and time to develop today's popular flower-shaped container with its" Snap-Out" function.
As the popularity of this product grew, vendors began to stock the "3-Pack" ‒ a success that led to the development of "Big Pucchin Pudding" , the larger sized "Happy Pucchin Pudding", and the 1-kilogram sized "Make-at-Home" Pucchin Pudding. Whatever the size and wherever purchased, Pucchin Pudding products bring smiles to the faces of consumers.
Successfully introduced in 2007 was Dororich ‒ the fruitful result of incorporating advanced Glico technological development to bring forth a drinkable dessert. In fact, this innovative idea has been responsible for the creation of a wholly new and popular dessert genre.
Enhancing the Range of Joy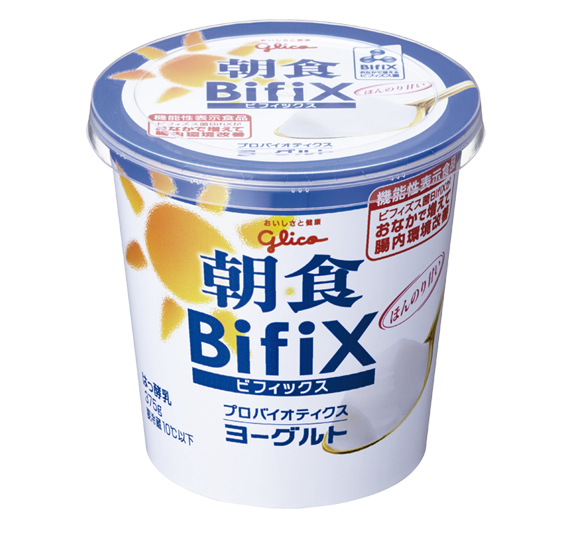 Choshoku Bifix yogurt contributes to the joy of eating and the enhancement of health by providing a nose-pleasing aroma and a palate-pleasing taste. It further features a firm texture that makes it easy to eat with a spoon. This, then, is yet another example of the unique methods incorporated by Glico to deliver wholesome and tasty products.
Featuring the Finest and Freshest Ingredients
The ingredients for Glico products are individually selected from among the very best available around the world. Once a site is chosen, Glico staff members are dispatched to work hand-in-hand with local producers to ensure the most-efficient cultivation of the best possible crops. The deep aroma of Café-au-Lait and the crispy feel of Choshoku Ringo Yogurt, for example, have been realized only through such encounters.
The origins of Tokusen Milk are five highland farms carefully selected to ensure the finest taste and quality. Due to the fact that milk-producing cows are susceptible to summer heat as well as to stress, these locations provide cool and comforting environments. In addition, their superior pasturages are rich in minerals.
To preserve maximum freshness, Tokusen Milk is delivered direct from each of the highland farms to the closest concentration of consumers.
5.Baby Formula
A Healthier Future for Babies and Mothers
Supporting Infant Growth and the Health of Mothers
Incorporating the input of nutritionists who are also qualified as child-raising advisors, Glico continually strives to assist in solving the worries and problems that mothers can experience with their babies. In the process, Glico has developed and produces instant, high-quality powdered baby formulas along with other products that promote the sound growth of babies and the good health of mothers. In fact, ICREO Balance Milk has been prepared to be as close as possible to a mother's breast milk that is the ideal source of nutrition for babies.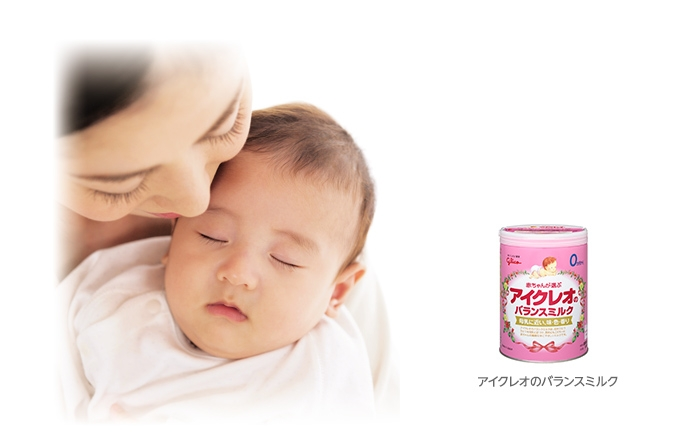 6.Food Ingredients and Fine Chemicals
Pursuing the Source of Wholesome Tastefulness
Offering Materials Fulfilling Customer Expectations
For over half a century Glico has continuously been delivering "A Wholesome Life in the Best of Taste" by also providing food ingredients to Japanese producers and processors. In the beginning, our main products were tasty flavoring agents. The next step was the production and sales of A-glu – a wheat protein (gluten) that enhances quality while providing a satisfied appreciation for the products in which it is contained. In fact, our wheat protein products have currently achieved the largest share of the domestic market in their field as a result of becoming food ingredients in recipes of a broad range of such producers and food processors as noodle makers, bakeries, and side dish makers.
Over the years, we have broadened our ability to provide food ingredients that fulfill the specific requirements of food production and processing customers. In part, this has been accomplished through the development, production, and sales of various forms of starch derived from wheat, tapioca, and potatoes along with an enhanced range of coloring agents.
Glico constantly explores new market possibilities while seeking to positively respond to the needs of customers around the world. Towards accomplishing these goals, we have amplified our material lineup to include fine chemicals.
Developing Unique, Safe, and Reliable Materials
Glico successfully develops new materials by conducting research, leading to the development of original technological advances that make it possible to respond positively to varied customer needs. Further, stringent production control, along with an effective and efficient quality control system based on our unique technical know-how ensures maximum material safety and reliability.
As part of fulfilling the needs and requests of our customers, we have successfully developed an ample range of wheat proteins featuring diverse physical properties. Those wheat protein materials include A-glu – the starting point of Glico's business related to food ingredients.
Starches developed by Glico successfully apply enzyme technology to develop materials that often feature previously little-known characteristics. One such enzyme-treated starch is marketed under the commercial name of Chemistar-E Series. Other types of starch added to our already abundant material lineup include those offered under the commercial names of Ginrin and Chemistar.
Also available is a wide range of coloring agents that include the Gardenia-flower-derived Kuchina Color and Monas Color that is extracted and refined from the Monascus purpureus species of mold. In addition, unique materials developed as part of our constant efforts to support various production and processing industries include the ethanol-based agent E&F and specially processed rice powder.
Glico's fine chemicals are produced incorporating innovative developments based on carbohydrate engineering and enzyme technologies. Further, the function and safety of the fine chemical products, α-Arbutin, Cluster Dextrin, POs-Ca (Phosphoryl Oligosaccharides of Calcium), Bioglycogen, and Bioamylose are all supported by scientific evidence and extensive safety data. As a result, their superior quality and practical functions are making positive contributions to the development of high added-value products in various global production and processing fields including general food products, health food products, cosmetics, daily-use products, chemical products, and medical supplies.
In summary, we are firmly resolved to take all the steps necessary to satisfactorily meet the challenges of fulfilling the needs and requests of customers around the world by making the most efficient use of not only our own in-house resources, but also of our global procurement network for materials and raw materials from suppliers both domestic and international.